America's Southwest: A Luxury Train Adventure
Sept. 30 - Oct. 4, 2023
Silver Leaf: $3,495 per person, double occupancy; $5,295 single occupancy
Silver Leaf Plus: $4,295 per person, double occupancy; $6,095 single occupancy

Rocky Mountaineer Luxury Train Adventure from Denver, Colorado to Moab, Utah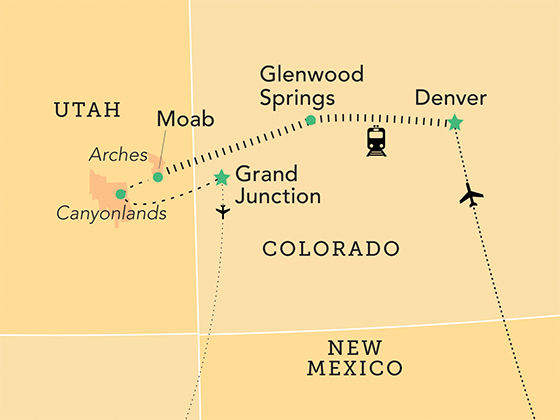 Ride the rails between Denver, Colorado to Moab, Utah and experience stunning vistas of the American Southwest from the comfort of expansive glass-dome trains aboard the well-appointed Rocky Mountaineer. Relax and take in the riches of natural history with the mighty Colorado River, vast canyons, and mesmerizing red sandstone landscapes before you and delicious meals and beverages brought right to your seat. After arriving in Moab, delight in guided touring at Arches National Park and Canyonlands National Park for two additional areas to explore.
Program Highlights:
Explore the Southwest's natural wonders in Arches National Park and Canyonlands National Park with a knowledgeable Orbridge Expedition Leader.
Soak in the train route's stunning landscapes with a journey alongside the Colorado River through a series of canyons with steep rugged rock walls, and be awestruck with highlights of mountain vistas, desert cliffs and rock formations.
Enjoy entertaining contextual presentations from onboard hosts, locally inspired cuisine, and exceptional service aboard the Rocky Mountaineer.
Refresh with the opportunity to disembark and spend restful overnights in hotels with stationery beds.
What's included: 4 nights accommodations; a welcome and farewell reception, 4 breakfasts, 1 lunch and 2 dinners; full guiding services of an Orbridge Expedition Leader as well as expert local guides; admission and park fees throughout; all activities as described in the 5-day itinerary, unless noted otherwise; private deluxe motor coach with air conditioning and comfortable seating; luggage porterage; gratuities to Orbridge Expedition Leader, local guides, drivers and porters; and airport transfers for guests arriving and departing during the suggested times.
Program Itinerary:
Day 1: Arrive in Denver, CO
Day 2: Denver / Rocky Mountaineer / Glenwood Springs
Day 3: Glenwood Springs / Rocky Mountaineer / Moab, UT
Day 4: Moab / Arches National Park / Canyonlands National Park / Moab
Activity Level: Moderate
The majority of the program's activities will take place outdoors and a fair amount of walking on varying terrain is to be expected. Many of the parks have dirt trails—but they are usually fairly smooth for walking—and some do have paved pathways and boardwalks. It is our expectation that guests on this program are able to walk a mile at a moderate pace, get in and out of a motor coach, and walk up a flight of stairs without assistance. Guests should be comfortable boarding and disembarking trains without assistance, walking and moving between cars while the train is in motion, and navigating steep, narrow stairs to the upper level of the observation car. Activities take place at a high elevation.
Accommodations:
The Oxford Hotel
First opened in 1891, The Oxford Hotel is one of Denver's most notable historic properties, having served famous guests, such as President Theodore Roosevelt and the Dalai Lama. Ideally located in the bustling LoDo neighborhood, in close proximity to local attractions, it offers an inviting respite that combines historic charm with contemporary convenience. No two rooms are exactly alike, sporting décor both lavish and era-themed and featuring a mix of early 20th-century French, English, Victorian and American influences.
Room Amenities: Individual climate control, writing desk and chair, flat-screen TV, complimentary Wi-Fi, alarm clock, phone, coffee maker, minibar, iron and ironing board, and en suite bathroom with sundries and hair dryer.
Glenwood Springs
Accommodations in Glenwood Springs are determined by Rocky Mountaineer. Glenwood Springs' properties are considered moderate two- or three-star hotels or motor inns, satisfy our standards of cleanliness and comfort, and are the best available in the area.
Glenwood Springs is a town that's easy to navigate. The charming downtown area—close to hotels, restaurants and attractions—is walking friendly. Browse exclusive boutiques and choose among restaurants to satisfy a taste for a delicious burger, hometown micro brew, or fine dining with a glass of hearty wine.
Red Cliffs Lodge
Located in Moab, Red Cliffs Lodge is a true example of an Old West-style property with modern amenities. Nestled on the banks of the Colorado River, enjoy the panoramic views of the surrounding 2,000-foot sheer red rock cliffs.
Cool off in the swimming pool, take a dip in the hot tub, or enjoy a game of tennis, volleyball, or horseshoes. And don't forget to check out the Moab Museum of Film and Western Heritage, featuring 100 years of colorful cowboy life and history alongside Hollywood movie memorabilia dating back to the late 1930s.

Room Amenities: Individual climate control, private patio, kitchen area, TV, DSL internet connection, phone, coffee maker, and en suite bathroom with sundries and hair dryer.
Note: The lodge does not have an elevator.
Location
,

Colorado and Utah
United States