Beavs win in 2022!

3-time consecutive Rivalry Week Challenge champions
Faithful Beavers have locked in three consecutive Rivalry Week wins during the annual Beavers (479) vs. Ducks (276) contest to enroll the most alumni association members - and that's something to celebrate!

When we win, all of Beaver Nation wins.
Beavers received a 25% discount on any membership, the biggest savings all year
Oregon State students gain transformative programs, services and scholarships
215,000+ alumni and 300,000 parents and friends worldwide are strengthened by connections to OSU, networking opportunities and career resources for every stage in life
Many of our partners give back to OSU student scholarships when you use your exclusive OSUAA member benefits
Bonus: OSUAA has donated $1,000 to the Basic Needs Center to supply food and meals to students with food insecurity.
Special thanks goes to the UO Alumni Association for their continued partnership on this membership challenge that benefits all involved!
It's more than a competition:  The OSU vs. UO rivalry is one of the oldest college rivalries in the nation, and our good-natured challenges span athletics, academics, research dollars, statewide outreach, university rankings and even blood drives. That means, no matter the outcome, we're creating better prosperity, health and belonging across OSU and the whole state (but we still take winning seriously).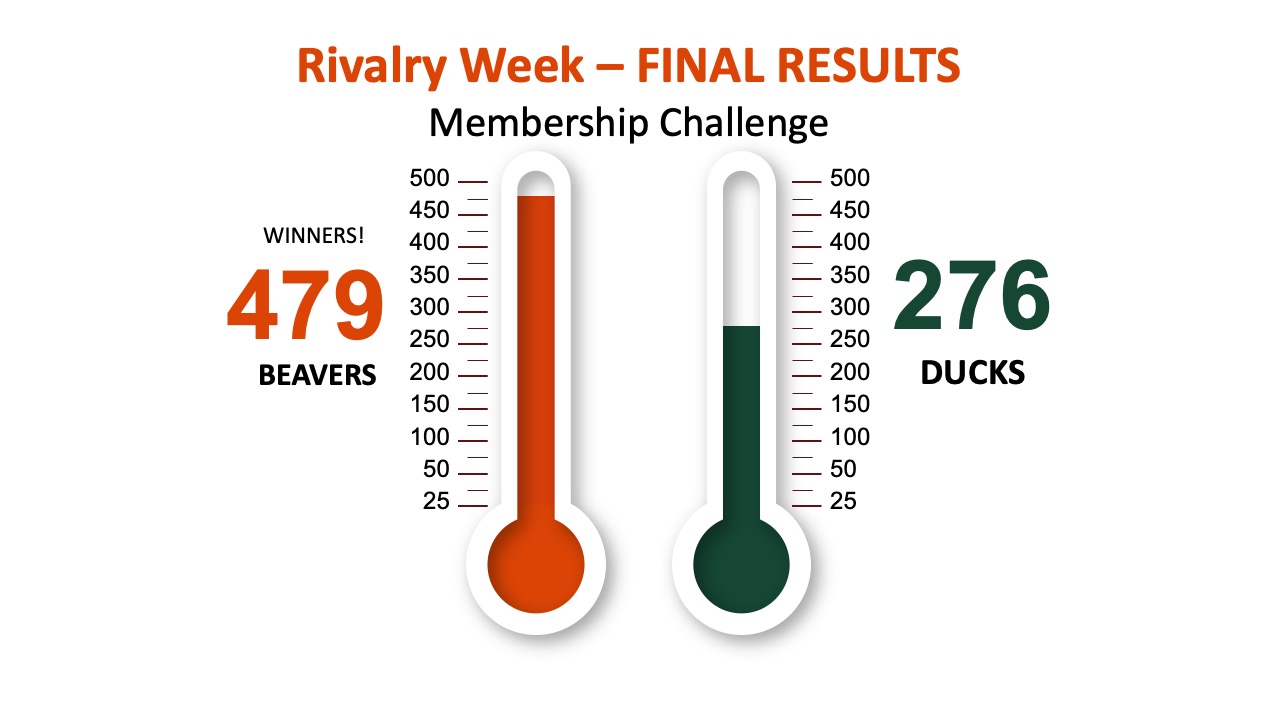 I am an OSUAA member because of the lifetime of opportunities for personal and professional development. It is being part of a community of like-minded individuals that strive to be better. To give back, to strengthen our ties, and to continuously pursue growth. OSUAA is family, friends and relationships.
Sean Jaqua, '14
I am an OSUAA member because I am proud to be part of this university. This university offers so much to incoming students, its community, the state and the world. It leads in many areas of research to better our lives and to better our planet. This university produces problem solvers, and I love that!!
Linda Olsen, '82
I'm an OSUAA member because my family bleeds orange! I'm a 4th generation Beaver and plan to continue the tradition!
Jordan Ritchie, '11
I'm an OSUAA member to stay connected with the university. I feel it's important to stay connected to the institution that built my career and livelihood. I have always been a true Beaver through and through. Support your university!
Judy Morris-Green, '85