Homecoming Court 2023

Beavers, are you ready to showcase your OSU spirit and become part of a legacy of Beaver pride? Apply to become a 2023 Homecoming Court Ambassador.
Sponsored by the OSU Alumni Association, Homecoming Court Ambassadors are chosen based on their contributions and involvement at OSU. As a student who embodies the spirit, integrity and achievements of Beaver Nation, those selected as ambassadors will receive a one-time scholarship of $500, gain access to university leadership and alumni and share their Beaver pride and voice at university events throughout the year.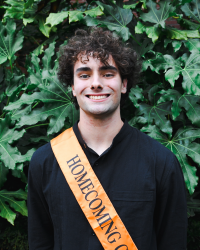 Maxwell Fry
Maxwell ("Max") Fry is a junior in the College of Science, majoring in Biology with a minor in Chemistry and a certificate in the Medical Humanities.
Max is an active member of Phi Beta Kappa Society; the Sigma Nu Fraternity, the Baseball club, and the National Alzheimer's Buddies (NAB) club. As a member of NAB, he has volunteered in programs that help those suffering from Alzheimer's Disease at the Grace Center here in Corvallis.
Max is in the Honors College; a member and peer mentor of STEM Leaders with an aim to help shape research in discovering new pharmaceutical solutions to the rapid growth of cancerous tumor cells in nervous systems; has previous research experience in the ecological effects of plastic in coastal sand dunes (by counting microplastics in sand collected from beaches across Oregon and Washington).
Max loves to volunteer/intern at the Salem Clinic and has received a scholarship from the Merrill Family Foundation for his dedication to service and leadership.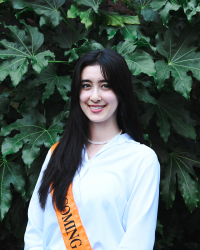 Gretchen Fujimura
Gretchen Fujimura is a fourth year Honors College of Science student, majoring in Biochemistry and Molecular Biology with a minor in Chemistry.

She is the founding member and president of OSU's National Residence Hall Honorary chapter, which is an organization devoted to community service, recognition of OSU students and staff, and training the next generation of student leaders. Gretchen also works as a peer mentor in the Beaver Connect program, which helps first year minority and first-generation students get accustomed to college.
Gretchen is also very passionate about research. She currently works in a biochemistry and biophysics laboratory, where she studies viral proteins such as Rabies, Ebola, and even SARS COVID-19, and how they enter human cells. She has presented her work at numerous conferences, has won various awards for her dedication to research and was recently named a Goldwater scholar. Gretchen was also awarded a prestigious internship to conduct biophysics research at the University of Tokyo in Japan.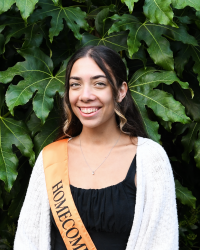 Kawaiala Husen
Kawaiala Husen is a third year College of Business student, majoring in Marketing with a minor in Spanish. Kawaiala grew up in Corvallis, Oregon with orange and black running through her blood as both her parents and many of her close relatives are Beavers. She is a 4th generation OSU student and has been a huge Beaver fan ever since she was a child.
Kawaiala is passionate about cultural involvement and has been an active member of Hui o Hawaii Club; Asian Pacific Cultural Center; and Delta Gamma Sorority and is serving as its Director of Diversity, Equity and Inclusion.
She also values uplifting and connecting with underrepresented communities in her field and is involved with the Women Mean Business club and the People of Color in Business Club. Additionally, Kawaiala has been a dedicated member of the Marketing Club since her freshman year and is currently working as a marketing associate for OSU's Orange Media Network.
Kawaiala has received numerous Delta Gamma certificates in honor of outstanding academic performance, the Finley Academic Excellence Scholarship, and the Gina M. Zalunardo Memorial Scholarship for her commitment to educational and cultural interests.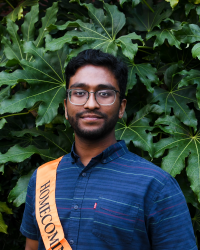 Santosh Ramesh
Santosh Ramesh is a rising senior in both the Colleges of Business and of Engineering, pursuing a double major in Business Analytics and Computer Science. With strong passions surrounding the intersection of technology in business, Santosh considers himself entrepreneurial in nature.
As the co-president of Sales Club and Indian Students Association, Santosh splits his time between raising the elite standing of OSU's sales students and promoting cultural awareness of South Asian culture. Within OSU's Sales Team, Santosh is the managing captain of an elite group of students who compete in Sales competitions across the country. Through Sales Team, Santosh has become the recipient of several awards from competitions hosted by Florida State, Illinois State, and Kennesaw State University among many.
In addition, Santosh is a part of AKPsi, a business fraternity dedicated to promoting business acumen. This last summer, Santosh was chosen as one of 16 members across the nation to pursue leadership development within their "Academy" program.
With his free time, Santosh spends time in OSU Bhangra, an Indian Dance team, preparing to compete in national circuits. Socially involved, Santosh belives taking on any opportunity to immerse himself in clubs, programs, and cultural settings.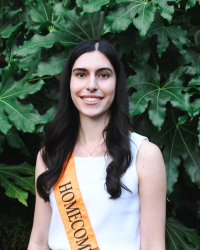 Adeline Rang
Adeline ("Adie") Rang is a junior in the Colleges of Agricultural Science and of Liberal Arts and also the Honors College.
Adie is majoring in Agricultural Sciences and International Studies with a minor in Comparative International Agriculture. She is an undergraduate laboratory and field technician at OSU's Horticulture Honeybee Lab. She is very dedicated towards her work with honeybees and is the proud owner of Adeline's Acre, her own apiary where she maintains her beehives, harvests, and packages honey to sell.
Adie is a member of the Joint Projects Committee and Vice-Chair of the Outreach Committee at ASOSU; the Vice President of Public Relations at Collective Greek Council; the Vice President and Secretary of the Collegiate Farm Bureau and the Scholarship Chair, a member of the Sigma Alpha Sorority. She is helping draft legislation and put policy in place to protect and advocate for pollinator health and volunteers each quarter to help facilitate sending agricultural teaching materials to classrooms around the state. Adie has also been selected to attend the Agriculture Future of America Policy Institute in WA DC this year and was recently awarded the Waldo-Cummings Student Award.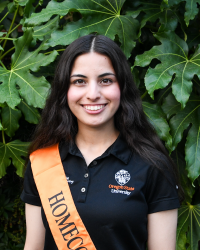 Elsa A. Moreno Rangel
Elsa A. Moreno Rangel is a College of Engineering senior, in the School of Civil and Construction Engineering, majoring in B.S. Construction Engineering Management.
She is involved with the OSU Project Management Team for Associated Schools of Construction (ASC) Competition; a peer mentor to CCE 1st Year Cohorts Mentorship Program; an Outreach Coordinator for the Associated General Contractors of America (AGC); and the Media Relations Chair for the Institute of Transportation Engineers (ITE). Elsa is also the Founding member and Secretary of the Design Build Institute of America (DBIA); works as a TA, and an URA for OSU Driving & Bicycling Simulator Lab.
My Homecoming Court experience was yet another example of what makes OSU a home away from home. It was an honor to attend the President's tailgate, watch the football game from the VES, be recognized on the field, and visit the President's box.
Alexa Dietz, '21
Being on the OSU Homecoming Court is such a huge privilege. My two court experiences have already opened up so many new doors and opportunities for me, and the academic year is just starting.
Marisol de la Torre, '21
Being part of the Homecoming court has been filled with a lot of first-time experiences, which I didn't quite think would be possible during my senior year. I encourage anyone reading this to apply to HC court! The possibilities are endless. GO BEAVS!
Carolina Guillen, '19
"The OSU Homecoming Court strengthens your passion and engagement with your Alma Mater, and it greatly inspires you to become a lifetime supporter of OSU! I've been inspired by the many passionate and enthusiastic OSU Alumni + Leaders that I've had the opportunity to meet through this wonderful opportunity, and I can't wait to give back to OSU as a future Alumni!"
Elsa Moreno Rangel, '23
"To be given the privilege to network with talented peers, invested faculty, and industry leaders -- the Homecoming Court is truly a once-in-a-lifetime opportunity that I am grateful to have gotten, and I highly recommend that everyone apply!"
Santosh Ramesh '23
Homecoming Court provides an amazing opportunity to connect with alumni and be inspired by what past Beavers have done to create a brighter future.
Hallie Baker, '20
My time on the Homecoming Court has been truly impactful. Having the opportunity to represent OSU at alumni events, welcome a new class of students into our community and connect with fellow Beavers are just a few of the special memories I have from my time on HC.
Ayla Bussel, '19
Being on the Homecoming Court has been one of the highlights of my OSU experience. I have loved getting the opportunity to meet so many members of the OSU community and getting the chance to be part of amazing OSU traditions.
Seth Thomas, '19
Being connected to the OSU network has provided me with so many fun memories, new friendships and professional connections that I know I can draw upon for many years to come. I wouldn't change it for anything in the world.
Dylan Young, '19
It is such a great opportunity to network and meet with staff and OSU professionals as well as learn about more resources we can utilize as a student and future professional.
Jeanette Chen, '21