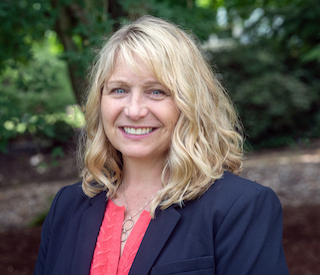 Marnie Noble
Senior Director of Development I, Leadership Gifts
As senior director for leadership gifts, Marnie Noble leads the Foundation's leadership gifts program, serving as chief strategist and collaborator in increasing philanthropic support from individuals and organizations capable of making significant commitments for OSU priorities.
Prior to assuming this role in July 2021, Ms. Noble held a number of leadership positions within the College of Engineering, where she developed and deepened relationships with donors and served as a mentor to her teammates and colleagues. She joined the OSU Foundation in 2002.
As a 20+ year veteran of higher education advancement, Ms. Noble has become an accomplished major gift officer. Before joining the Foundation, she was the director of donor relations at Willamette University, where she oversaw all areas of donor recognition and stewardship and managed development events. In addition, she served as the assistant director for annual giving at Lewis and Clark College and as director of fund development for the Santiam Girl Scout Council.
Ms. Noble currently serves as a board member for Lumina Hospice & Palliative Care and was previously a member of the executive committee and a presenter for the Engineering Development Forum. She received her Bachelor of Arts from the University of Oregon.

Exception occured while executing the controller. Check error logs for details.