Beaver Brag Points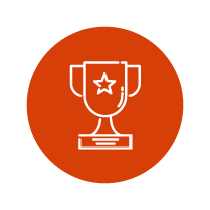 Lots to Brag About!
We all love to share the Oregon State story. From spreading the word about OSU's prominent presence in our community and our philanthropic passions to bragging about our amazing university and innovations, we present a batch of talking points for the not-so-bashful Beavers.
Whether you are talking with friends and family or sharing the OSU mission at a cocktail party, we've got you covered.
OSU students

Over 30,000 students from all around the world
OSU is ranked among the top 5% universities for veterans and active-duty military in the country
About a quarter of all OSU students are among the first generation in their families to attend college
OSU is home to more than 400 student clubs and seven Cultural Resource Centers
Oregon State University is the top public university in Oregon for mid-career salary according to Payscale.com
OSU received the 2020 Higher Education Excellence in Diversity (HEED) Award, a national award that honors college and universities for having a campus culture committed to diversity and inclusion
Academic & research excellence
No. 1 best online liberal arts colleges
No. 2 forestry program in the world
No. 3 oceanography program in the world
No. 4 best online bachelor's programs in the U.S.
No. 4 best college for studying natural resources and conservation in the U.S.
No. 5 robotics engineering school in the U.S.
No. 10 best big data degree in the U.S.
OSU is one of only two universities in the country with land-, sea-, space- and sun-grant designations
No. 1 public Oregon research university
Nearly $450M in research grants and contracts
Four OSU professors are among the top 1% of the world's most cited researchers
One of 40 Tier 1 Research Universities as designated by the Carnegie Foundation
Other recognitions
OSU makes constant efforts to commit to diversity and inclusion initiatives like the university-wide effort called "Moving Forward Together." In 2020 Oregon State was honored for the third straight year with the 2020 Higher Education Excellence in Diversity (HEED) Award.
Learn More