BEaver KIND - Graduation 2023
For graduation this year - give the gift of kind words. Just two minutes of your valuable time is all it takes to support graduates as they venture into the "real world" by sharing an encouraging message, just 255 characters or less.
Here's a prompt to get you started: What does your OSU degree mean to you? Your words will be a reminder of why students started their OSU journey and all of the wonderful places it can lead.
Your note will reach the newest OSU graduates who are emerging from the COVID-19 pandemic in search of kind words and advice to help them build social connections, self-confidence, time management skills, motivation and more.
OSUAA reserves the right to edit your inspirational message for spelling, grammar, length and consistency, and repurpose the quotes for promotional and educational efforts online and in print.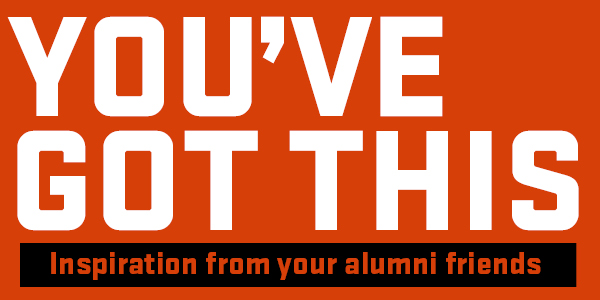 Read Inspirational Messages from Alumni Below!

Thank you for the almost 200 alumni and friends who submitted almost 220 notes during fall 2021. Your messages are truly inspiring - and sure make a huge difference. Check out a few samples below.
Hi! I'm a new Beaver graduate and I'm here to say YOU'VE GOT THIS! Think about the future you've always dreamt of. Well, guess what? That future is WITHIN REACH! Make sure you take care of yourself, too. That's just as important! :)
Katy Roach, '20
Hey you beautiful human! You are in the home stretch before a well-earned break comes along. Remember to breathe deeply, love yourself through the hard stuff and that your best is enough! You've got this!
Kellie Ward, '17
Please take a moment to appreciate the journey that has brought you to this moment. Consider those that have supported you and continue to do so. Your accomplishments are theirs as well. Your hard work honors yourself and your benefactors. Be proud of yourself and remain committed to the goals and future you desire.
Adam Scarberry, '06
I'm proud of you for choosing to go to college, it's not easy. Going to OSU is even more awesome. You have so much in common with so many great people who have attended there. So take charge of this week. Take it serious, but know that you don't have to be perfect. Do your best, that's all you can do. You got this!
Heather Desmarteau, '04
You are doing great! Keep up the hard work - it will pay off dividends in your future. You've got so many alumni cheering you on!
Hilary Gunderson, '12
The tough times shall pass, grades will fade, but the knowledge you gain and memories you make in this time will stay with you forever. You've earned the right to be a Beaver and I am sure you will live up to it. Stay focused and go for it!
Pranav Joshi, '06
Treat others well, be kind to yourself, eat healthy, rest enough, exercise often, explore and go on an adventure when you finish. Have high personal standards. You are on a journey, think as you travel. Have fun!
Buzz Morales, '91
Every challenge should be taken as an opportunity to learn about yourself, and how you face adversity. Whether you think so or not right now, you'll find a way through! You're a Beaver after all.
Casey Culham, '07
These days might be tough, but so are you! You are capable of truly great things. I believe in you and so do so many other people all around you!
Megan Cook, '09
Keep going! Figure out what you are going to do today and do it - take everything in small, doable steps. Make sure you look around you and see how beautiful are your surroundings. Breathe deep, feel hope, feel loved.
Linda Engelbrecht, '11
Believing in yourself first and then doing are your keys to success. Don't give up! Failure is a teacher.
Paul Jimenez, '93
The time and work you put in now will pay off big time. As tough as this year has been, it will only be an upward trend. You have your fellow Beavers to lean on!
Dan Henderson, '95