Peter and Rosalie Johnson Chair in Chemical, Biological & Environmental Engineering
December 31, 1997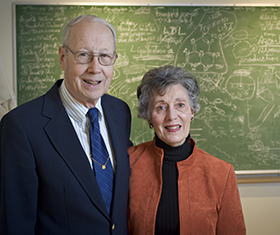 In 1997, Rosalie and Peter Johnson of Corvallis established the Peter and Rosalie Johnson Chair in Chemical, Biological & Environmental Engineering. Peter Johnson, president and owner of Tekmax, Inc., a company which revolutionized battery manufacturing equipment, is a 1955 graduate of the College of Engineering.
The Johnsons have a long history of supporting OSU. They have made generous contributions to aid the construction of the CH2M HILL Alumni Center and the Joe Schulein Computer Laboratory, which was opened in 1995. In addition, they have supported the Home Farm School in Corvallis, as well as Good Samaritan Hospital and Ashbrook School.
At the time he and Rosalie made the gift for the Chair, Peter Johnson said, "Both Rosalie and I believe in the value of education. This is our way of investing in future students. I wanted to fund the Chair because I feel I received a good, solid education at Oregon State." Peter passed away in 2020.