Barbara Emily Knudson Chair in Family Policy
December 31, 1991
In 1991 a gift from Barbara Emily Knudson '39 made possible the establishment of the nation's first endowed chair in family policy. Her philanthropy, combined with the completion of the Family Study Center, gave OSU and its College of Public Health and Human Sciences the opportunity to become the national leader in the study of family issues.
In making her gift, Knudson said, "Families are the basis of our entire world, and in the modern situation, with single parent families and so forth, I thought they needed more help and assistance."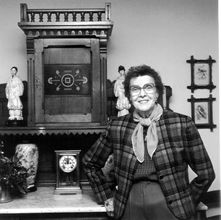 Barbara Knudson continued the OSU tradition established by her father, Joel Emily, who was a member of the Oregon State Pacific Coast Championship football team in 1906. Following her graduation, she taught high school in Junction City for several years, eventually becoming dean of girls. She then married and moved to Portland where she did occasional substitute teaching. She was also active in the American Association of University Women and served on the board of the Christie School. She passed away in September 2009.
The holder of the Barbara Emily Knudson Chair in Family Policy serves as a resource in family policy issues to help prepare graduate students for service in a variety of public policy and community service capacities. The chair adds public policy analysis to the strong family sciences undergraduate instruction, research, and community services programs in the College of Public Health and Human Sciences.