$1.75 billion fundraising campaign launches the university into a new era
December 22, 2022
From the Winter 2023 issue of the Oregon Stater magazine
About 40 years ago, two teenage lab partners found love in an Oregon State University engineering lab. As their marriage and careers flourished, so did their dedication to the place that helped them make their start.
This October, in a 50-foot-tall tent raised on the Memorial Union Quad for the launch of Believe It: The Campaign for Oregon State University, university leaders announced Jen-Hsun and Lori Huang's $50 million gift, and the two alumni explained how they hoped it would help the next generation make its mark.
"If you consider what is happening around the world, you understand the incredible imperative for institutions like Oregon State — and particularly Oregon State — to address some of humanity's most pressing challenges," Jen-Hsun told the gathering of over 500 alumni, students, faculty and supporters. "Oregon State is one of the world's hidden treasures. There's no question in my mind that as Lori and I look back 40 years from now, this will be one of the most important things we have ever done."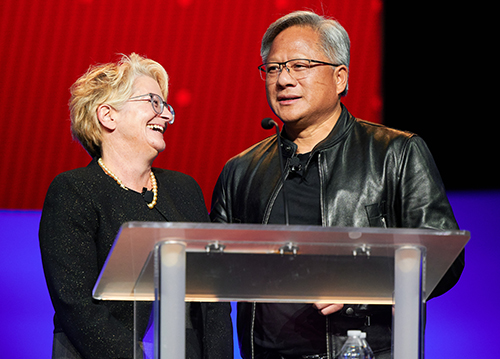 After the couple graduated from the College of Engineering, Jen-Hsun, '84, '09 (Hon. Ph.D.), be- came founder and CEO of tech company NVIDIA, a pioneer in computer graphics and developer of advanced semiconductors. In 2021, Time named him among the 100 most influential people in the world, then listed NVIDIA among 2022's 100 most influential companies. Lori, '85, leads their Palo Alto, California-based family foundation.
Their gift will go toward the creation of a new advanced research and education facility, the Jen-Hsun and Lori Huang Collaborative Innovation Complex. Designed to propel Oregon State research forward, at its center is an advanced supercomputer powerful enough to train the largest artificial intelligence models. It will run scientific simulations designed to answer pressing questions and return results in a day or less that would otherwise take a month. NVIDIA says it will be one of the fastest university supercomputers in the world.
The center will offer students new opportunities for hands-on learning — from a cyber playground to a state-of-the-art clean room — and its labs will support team-based research to solve global challenges in areas such as climate science, oceanography, sustainability and water resources.
"The Jen-Hsun and Lori Huang Collaborative Innovation Complex will be much more than a building. It will serve as a university-wide promise and as a hub for advancing groundbreaking solutions for the betterment of humanity, the environment and the economy," said OSU President Jayathi Murthy.
The university and the OSU Foundation began working on the Believe It fundraising campaign in 2017 with then-President Edward Ray, focusing on university priorities ranging from student access and success to faculty, academic programs, research, statewide community engagement programs, OSU Athletics and facilities across the university's campuses.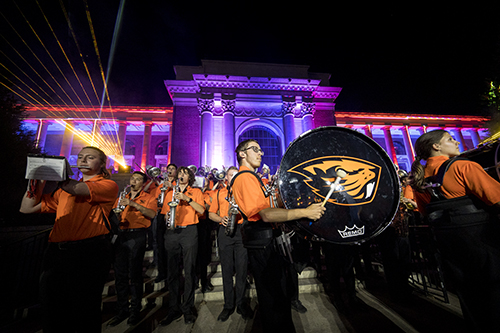 So far, more than 56,000 donors together have contributed over $1 billion toward the campaign's $1.75 billion goal. In addition to building projects, the gifts have made possible the creation of nearly 500 new scholarship funds, graduate fellowship and student support funds (an increase of 26% since the campaign began) to make an OSU education financially accessible to more students. The gifts have also already created 49 new endowed faculty position funds (an increase of nearly 40%) to help the university recruit and retain the highest quality faculty.
The Huangs' is the third gift of $50 million received during the fundraising campaign, the largest gifts in university history. The other two support the effort to complete Reser Stadium (from an anonymous do- nor) and the Carlson College of Veterinary Medicine, named to honor donor Gary R. Carlson, '74.
But the research center wasn't the only announcement of the night. University leaders also revealed the supporter behind the Corvallis campus's 49,000 square foot arts and education complex — an early campaign success — now under construction at the corner of Southwest 15th Street and Washington Way and opening in the spring of 2024.
The complex will be named the Patricia Valian Reser Center for the Creative Arts, honoring the alumna, Oregon business leader, philanthropist and volunteer leader whose previously anonymous $25 million leadership gift made the initiative possible. Her gift inspired support for the project and helped OSU receive legislative approval for $38 million in state bonds. In all, Reser, '60, '19 (Hon. Ph.D.), has contributed more than $36 million in support of the arts at Oregon State.
"[Art] helps us understand what we are as human beings and influences how we relate to each other and the world around us. Art also connects our minds with our hearts," Reser said. "We must have a thriving College of Liberal Arts. We must have arts that flourish and speak with academics and research."
Reser urged the community to join the effort to shape the university's future. "When I first came to this university as a not-quite-20-year-old newlywed, I never could have dreamed that this was the beginning of another love affair — one with our university," she said. "I never could have dreamed how much I would grow and how much I would gain, personally, by being involved — the experiences, the new horizons, the cherished friends. My hope for all of you — my call to each of you — is to join me in jumping into OSU with both feet. Our engagement can take this university to unbelievable places."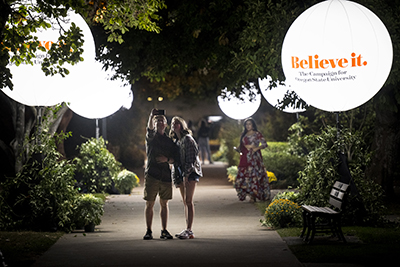 To this end, the Believe It campaign also seeks to mobilize Oregon State's wide network of alumni and friends in the important work of supporting students and connecting with the community. Opportunities include serving as career mentors, advising university leaders on committees and boards, advocating for support with policymakers and more.
At the campaign celebration, OSU Foundation President and CEO Shawn L. Scoville expressed appreciation for all the ways university supporters help students, faculty and staff do the unbelievable. "It's my great hope that, after tonight, you'll see OSU in a new light — still OSU, but even brighter," he said.
Learn more at OSUBelieveIt.org.