Callahan Faculty Scholar in Chemical Engineering
December 31, 2011
With an OSU degree in chemical engineering, Darry Callahan spent nearly 40 years in the energy industry, rising to the upper echelons of management. In 2011 Callahan and his wife, Betty, established the Callahan Faculty Scholar Endowment Fund in Chemical Engineering to help OSU continue to power the world.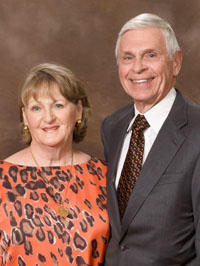 Callahan grew up near Roseburg, Oregon, and graduated from OSU with his bachelor's degree in 1964. He went to work at the oil company Chevron and became president of the chemical company in 1999. Following the company's 2001 merger with Texaco, he was executive vice president of power, chemicals, and technology until he retired in 2003. Callahan was elected to the College of Engineering's Academy of Distinguished Engineers in 1999 and named to the Oregon Stater Engineering Hall of Fame in 2009.
Callahan has served as an OSU volunteer for many years, including service as chair of the OSU Foundation Board of Trustees, OSU Environmental Engineering Advisory board, and the Executive Commercialization Advisory Council, part of OSU's Research Office; he also has served on the College of Engineering Advisory Board and on the university's Board of Trustees. Bay Area residents, the Callahans have long supported OSU with generous gifts to the College of Engineering and the Oregon Nanoscience and Microtechnology Institute as well as the athletic department.