Sahana Shah, '24, dreams of a new campus center for students with disabilities
August 8, 2022
By Siobhan Murray
Growing up in Corvallis alongside an autistic sister, Sahana Shah gained an appreciation for her family member's unique perspectives and learning style. But Sahana couldn't help having concerns. "What is her future going to look like? Will she go to college?"
When Sahana arrived at Oregon State University with a Donald G. and Grace I. Lavey Presidential Scholarship, she immersed herself in the Honors College, sought to better characterize the structure and function of the COVID N protein in her biochemistry and biophysics lab, and ran for the student House of Representatives. One of her main platforms? Helping establish a disability cultural center to better adapt the campus to the needs of neurodiverse students. She won the election with the most votes of any candidate.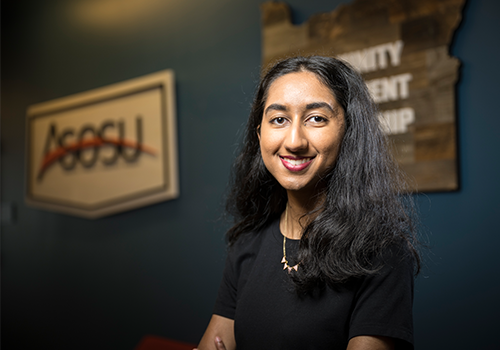 "The Presidential Scholarship has allowed me to fully engage in my passions at OSU through my different involvements, without having to worry about financial stress or other constraints, for which I am eternally grateful." – Sahana Shah, '24
Since then, Sahana has joined the long-term effort among student groups to bring the idea to life – introducing legislation to her colleagues in the Associated Students of OSU Congress in fall 2021, allocating money for the project in the House of Representatives, marketing their message and holding focus groups with students at the conclusion of the 2021-22 school year. They've watched their idea evolve and expand into a vision for a Disability Cultural Center, in addition to an International Student Center, with the ideas for both projects having come to ASOSU from the student body. "We envision the centers having panel events, workshops and other programs that celebrate everyone's backgrounds. That's the biggest thing a cultural center could do: educate and spread awareness," she says.
"If this comes to fruition, it would make me feel better about my sister going to college – I'd know she could have a place where she could feel safe."
In 2022-23, Sahana and her peers plan to continue working with university administration to designate physical spaces on campus for the two centers and gather student input on the programming efforts within them.
Donald G. and Grace I. Lavey Presidential Scholarship was created in 1998 through an estate gift from two OSU alumni who graduated in 1940 – he in mechanical engineering and she in home economics. Over the last decade alone, the endowed fund has provided over $375,000 in scholarships for students like Sahana. Learn more about how you can unlock greater support for OSU students through the Scholarship Match.