Dam Proud Day makes its biggest impact yet
April 30, 2023
By Sean Nealon
CORVALLIS, Ore. – The Oregon State University community set a record making more than 7,700 gifts totaling over $2.1 million during Dam Proud Day, the university's annual day of giving.
Dam Proud Day took place on April 26 and is part of OSU's second university-wide fundraising and engagement campaign, Believe It: The Campaign for Oregon State University, which was launched in October and seeks to inspire philanthropy and engagement on behalf of OSU.
"My first Dam Proud Day was a phenomenal experience and made me enormously proud to be part of this great university of doers and contributors to others," said OSU President Jayathi Murthy. "Throughout Oregon, across the U.S. and around the globe, we saw thousands of members of Beaver Nation demonstrate their commitment to the success of students and support for OSU teaching, research and services that address statewide and global solutions. The collective impact of philanthropy and engagement truly makes an unbelievable difference."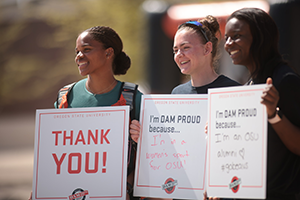 Dam Proud Day participants contributed to more than 100 programs across the university, including funds benefiting student assistance and success programs, colleges, departments, OSU Extension and athletics.
Two OSU presidential challenge gifts from Murthy and her husband, Sanjay Mathur, address increasing needs for OSU students, which have escalated following the pandemic. Murthy and Mathur committed $10,000 to the Dean of Students' Emergency Fund once faculty and staff made 600 gifts on Dam Proud Day. Murthy and Mathur also committed $10,000 to a new student mental health fund once alumni made 3,000 gifts.
OSU Foundation trustees and volunteer leaders were contributors to Dam Proud Day, including foundation board Chair Eric Schoenstein and his wife, Kelly Douglas; Chair Elect Penny Atkins and her husband, Gary; Immediate Past Chair John Stirek and his wife, Kate; and Past Chair Ruth Beyer. Together they funded a $100,000 Trustee Challenge for the second year in a row to incentivize participation in the day of giving.
Four of the day's standout funds were awarded bonuses ranging from $10,000 to $15,000 each through the Trustee Challenge (four additional categories are still being calculated; more information at prizes and prizewinners can be found on the Dam Proud Day website):
Women's crew received the most gifts.
Dean of Students' Emergency Fund had the most dollars raised.
Student Affairs was the academic unit with the most dollars raised.
Extension was the academic unit with the most gifts.
"Our giving day is unique in that, by design, it is about the participation of many – that is, thousands and thousands of alumni, parents, faculty, staff and friends from all over the world, who come together on one day to make gifts – of all sizes – to areas they care about at the university," said OSU Foundation President and CEO Shawn L. Scoville. "Dam Proud Day 2023 included over 175 challenge gifts totaling $1 million and ranging from $500 to $35,000, all designed to encourage participation. What I appreciate most is that our giving day allows us to showcase so many programs and initiatives, unique opportunities to make a difference in students' lives. I am grateful to each and every donor for their support of the university, through their gifts, advocacy and volunteer service."
Approximately 1,600 students, faculty, staff and community members participated on April 26 in a Corvallis campus street fair outside Reser Stadium. The street fair featured food, games, giveaways, Beaver Classic ice cream from the College of Agricultural Sciences food truck and an opportunity to take selfies with a 20-foot-tall Benny the Beaver inflatable. Supporters also engaged in interactive activities at Pioneer Courthouse Square in Portland and in the Bruckner Courtyard at OSU-Cascades in Bend.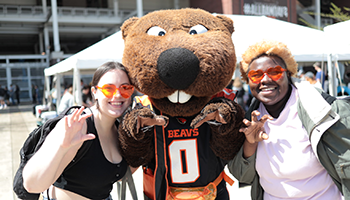 Since its inception in 2019, Dam Proud Day donors have given more than $5 million to support OSU students, programs and the university's work toward solutions for the world's greatest challenges. The day of giving raised $1.6 million in 2022; $1.2 million in 2021 and $620,000 in 2019. (In 2020, rather than Dam Proud Day, the university focused on inspiring gifts to support students experiencing financial hardship as part of the pandemic.)
Over 1,000 Beavers from around the globe tuned into an all-day, livestreamed talk show and engaged on social media. Donors to the 2023 Dam Proud Day were from 50 states and 17 countries outside the United States.
All 2023 Dam Proud Day gift totals are as of 5 p.m. on April 27.
Learn more about the next opportunity to join with fellow Beavers in making a difference on May 20, 2023 through Day of Service.
---