Emery Castle Chair in Resource and Rural Economics
December 31, 1998
OSU Professor Emeritus Emery Castle, a leading authority in rural and resource economics, made the initial gift toward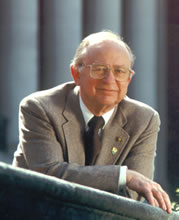 establishing an endowed chair in this discipline, assuring OSU's ability to attract and retain a top expert in a field vital to the health of rural communities in Oregon and nationwide. Many of Castle's colleagues, former students, and other supporters added to the fund as well, honoring Castle's legacy.
Castle had a 53-year career at OSU and on state and national policy and research boards, including a 10-year stint as vice president and then president of Resources for the Future, the Washington, D.C., think-tank on issues dealing with natural resources and the environment.
At OSU, his many accomplishments include serving as the head of Agricultural Economics, the dean of the Graduate School, and as Dean of Faculty. Even after retiring in 1992, Castle continued to lead, serving as director of OSU's Rural Studies Program, a multi-disciplinary program that he helped initiate. He passed away in 2017.