Eric H.I. and Janice Hoffman Professor in Civil and Construction Engineering
December 31, 2011
As a leader of the Portland-based construction company started by his grandfather, Eric H.I. Hoffman carried forward a family tradition. To help their alma mater continue in its tradition of educational excellence, in 2011 Eric and his wife, Jan, established the Eric H.I. and Janice Hoffman Professorship in Civil and Construction Engineering.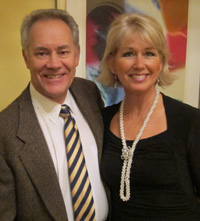 Eric graduated from OSU in 1979 with a bachelor's degree in construction engineering management and five years later joined Hoffman Construction. The firm, started by Lee Hawley Hoffman in 1922, became one of the largest general contractors in the Northwest, and it has employed many Oregon State graduates. "I'm surrounded by the great students who have come out of there," Eric said.
Eric and Jan met at Oregon State where she was a member of the Kappa Kappa Gamma sorority. Jan earned a bachelor's degree in business administration from OSU in 1981 and has worked in marketing and as a volunteer for many organizations. Eric was a member of the OSU Foundation Board of Trustees when he passed away in 2020.