Gene D. Knudson Forestry Chair
December 31, 2008
The Gene D. Knudson Forestry Chair was funded in December 2007 by a $1.5 million gift from the estate of Gene D. Knudson '39, a highly respected executive who helped build Willamette Industries into a national forestry products leader.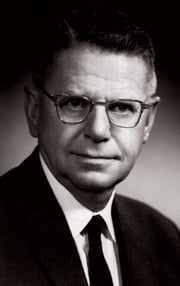 Knudson, who died in 1998, became president of Willamette Industries in 1970 and was board chairman from 1976 until his retirement in 1984. Under his leadership, the company's sales grew from $173 million to $1 billion. By the time Knudson stepped down as president in 1981, Willamette Industries was the nation's fifth-largest plywood maker.
An OSU honors graduate in technical forestry, Knudson was president of the OSU Foundation from 1981-83. He also served on the steering committee of the FourSight! Campaign, a major university effort to raise funds for four areas including funds for materials science research programs. Among other involvements, he served on the Oregon State Board of Forestry and on the board of directors for the Western Forestry Center, now the World Forestry Center.
Knudson received OSU's Distinguished Service Award in 1985. In nominating him for this award, Carl Stoltenberg, then dean of the College of Forestry, said, "Mr. Knudson has made generous and significant contributions through his behind-the-scenes sharing of managerial skills with public and nonprofit organizations. And although not as widely recognized, his quiet, generous sharing of personal resources has inspired many others to give similarly.... To every organization he has served, Gene Knudson brought leadership, respect, integrity, performance, and commitment."
Knudson's gifts supported several university programs including the Valley Library renovation and the OSU Research Council. The Knudson Chair was established to recognize and reward outstanding teaching, advising, and mentoring of undergraduate students, and visible leadership of undergraduate education.