Harold E. and Leona M. Rice Professor in Systematic Entomology
December 31, 1994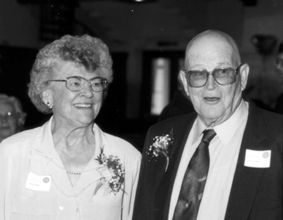 Enthusiasm for insects is not limited to professional entomologists. Harold Rice, a Springfield filbert grower, was an amateur entomologist for more than 50 years. He found species of butterflies never seen before in Oregon and rediscovered others thought extinct; some subspecies were even named after him.
Grateful for the guidance related to their filbert orchards they received from OSU Extension, Harold and his wife, Leona, donated 16 acres of land to the OSU Foundation. Proceeds established the Harold E. and Leona M. Rice Professorship in Systematic Entomology. (The Department of Entomology is a joint department of the College of Agricultural Sciences and the College of Science.)
The Rice gift is intended to promote science through research and teaching activities by an entomologist educated in Systematic Entomology (systematics is the study of the evolution and classification of animals and plants). The endowment also supports the curation of the Oregon State Arthropod Collection; with nearly 3 million specimens, it is the largest entomological research collection in the Pacific Northwest.
"I've been interested in entomology since I started collecting butterflies when I was a kid," Harold Rice said. "I've always wished I could do something like this for the field of entomology." Leona Rice passed away in 2005, followed by Harold in 2010.