Hatfield Marine Science Center Endowed Director
December 31, 1995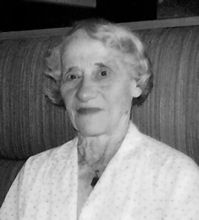 Mamie Markham and her husband Wilbur were longstanding supporters of the Hatfield Marine Science Center in Newport. Their sons James and John (who received his M.A. from OSU in oceanography in 1967) are both marine biologists. After Wilbur passed away in 1981, Mamie continued to make generous contributions to the center. In 1995, three months before her death, she made her largest-ever commitment, providing a gift to establish an endowment to support the center's director.
Graduates of University of Washington, the Markhams moved to Arch Cape on the northern Oregon coast early in their marriage. Living conditions were primitive, but as she said later, "I fell in love with the area despite arriving in drenching rain, getting stuck in the sand, being pulled to safety, and then drying out in the Hug Point cave." Over the next 10 years Wilbur's various posts as a logging engineer took the couple to several locales in Oregon, Washington, the Philippines, and Belize. In 1946 the family returned permanently to Arch Cape where Wilbur based his business as an independent land surveyor and timber cruiser.
Mamie was active in many organizations, particularly the American Association of University Women, and served as president of the AAUW branch in Seaside, Oregon, in the late 1960s. No kind of weather could deter her daily walks on the beach with the faithful family dog, Kintala.