Henry W. and Janice J. Schuette Professor in Nuclear Science and Engineering
December 31, 2013
Hank Schuette graduated from OSU in 1950, when the nuclear engineering industry was still very young. But he always had a vision for its importance.
"Because future energy demands might very well be met by nuclear power, I've always thought it was an area we should be working on, a field where we should be ahead of the curve by gaining more and more knowledge about it," he said.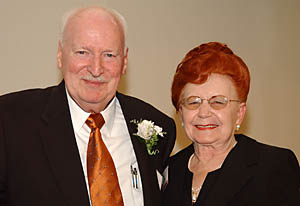 Schuette and his wife Janice made a transformational impact on OSU's nuclear engineering program when they made a 2003 gift establishing its first endowed chair: the largest gift the department had ever received. A second endowed faculty position, the Henry W. and Janice J. Schuette Professorship in Nuclear Science and Engineering, was created through the family's generous estate plans.
After earning his mechanical engineering degree, Schuette took a "temporary" job with Moore Dry Kiln Co. of Oregon that lasted 21 years. He worked on design in new areas that resulted in several added major products and equipment patents. He became vice president and director of the corporation with design and manufacturing responsibilities involving four plants in the U.S. and Canada. In 1971 Hank joined Wellons, Inc., where Janice also worked. They built the company into an international leader in the design, manufacture, and installation of energy systems that turn waste wood from the lumber industry into electricity. The couple retired in 1994 and traveled the world. Janice passed away in 2010, followed by Hank in 2013.