James and Shirley Kuse Chair in Chemical Engineering
December 31, 1997
James Kuse, former chairman of the board and co-founder of Georgia Gulf Corporation, was a 1955 graduate of OSU's College of Engineering. In 1997 he and his wife Shirley, a graduate of Lewis and Clark College and the University of Oregon's nursing program, established the James and Shirley Kuse Chair in Chemical Engineering to promote an integration of classroom instruction with direct, practical exposure to industry.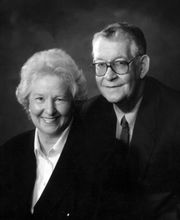 The Kuses were generous supporters of OSU for many years. In addition to funding the endowed chair, they contributed to the expansion of the Valley Library on behalf of their son Michael, a 1988 graduate of the OSU College of Business. They also made significant contributions to OSU Alumni Association and the Burgess Fund for Engineering, and Shirley created a fellowship to support female graduate students in engineering and chemistry. The couple's other affiliations included Lewis and Clark College, the National Petroleum Refiners Association, the American Institute of Chemical Engineers, the Chemical Manufacturers Association, and the American Chemical Society. James Kuse passed away in 2001, followed by Shirley in 2015.
The Kuse Chair provides the stability needed to keep the Department of Chemical Engineering focused on a well-balanced, hands-on, undergraduate program, while pursuing research and innovation in emerging areas of chemical engineering. Holders of the chair identify industry issues, design curriculum, and maintain a first-rate, innovative undergraduate program. The endowment supports a research and teaching program in an area of chemical engineering that is of critical importance to the profession and to Oregon.