Moore Family Center Endowed Director
December 31, 2010
In 2010 Bob and Charlee Moore, founders of Bob's Red Mill Natural Foods, made a gift of $5 million to establish the Moore Family Center for Whole Grain Foods, Nutrition, and Preventive Health in OSU's College of Public Health and Human Sciences. The center was created to build on the college's research on nutrition, childhood obesity and related topics, and help promote healthy eating throughout Oregon and beyond.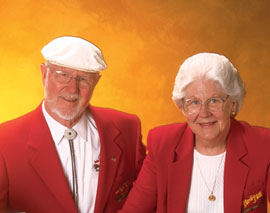 Bob Moore, the company's CEO, is one of the world's most prominent advocates for whole grains and healthy eating. He and Charlee started their business in 1978 in an historic flour mill near Oregon City with a mission to grind whole grains into flours, cereals, and mixes for the local community, moving people back to the basics with healthy whole grains, high-fiber and complex carbohydrates. Now based in Milwaukie, Oregon, Bob's Red Mill has become a leading provider of whole grain natural foods with international distribution. Charlee passed away in 2018.
The Moores' gift provided endowments for the center's director and an additional faculty member. The gift also created two programmatic funds to support the center's research and outreach, an endowed fellowship fund for graduate students, and provided funds to renovate the food research laboratory in Milam Hall.