Patricia Valian Reser Professor of Music
December 31, 2013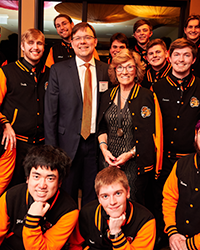 In 2012, Pat Reser made a $5 million gift commitment to advance the performing arts at OSU, launching a major effort to elevate support for the School of Arts and Communication. Her gift created endowments for four faculty and staff positions, including two professors, in addition to endowed funds supporting scholarships, graduate fellowships and programs. Her deep commitment to the arts extends to her community, where she made a leadership gift for the Patricia Reser Center for the Arts in Beaverton.
Reser and her late husband, Al, are among OSU's most dedicated volunteers and impactful philanthropists. They previously made many other transformational gifts to Oregon State, from athletics to science to business. Reser served as co-chair of the OSU Foundation Campaign Steering Committee, helping to guide the $1+ billion Campaign for OSU. Along with other leadership roles, she has served extensively on OSU Foundation Board of Trustees and its Executive Committee and was the inaugural chair of the university's Board of Trustees.
Reser graduated from OSU in 1960 with a bachelor's degree in elementary education; she later earned a master's in special education at Portland State and then received an honorary doctorate from OSU in 2019. She taught in Forest Grove and Hillsboro, Oregon, before retiring from the Beaverton School District in 1995. Together she and her husband grew Reser's Fine Foods — a family-owned fresh refrigerated food company — into an international business with facilities in the U.S. and Mexico. She now serves as the company's board chair.