Richard and Gretchen Evans Scholar in Humanitarian Engineering
December 31, 2015
In 2015 Richard and Gretchen Evans made a $1.5 million gift to the Oregon State University College of Engineering, creating one of the nation's only endowed professorships in humanitarian engineering.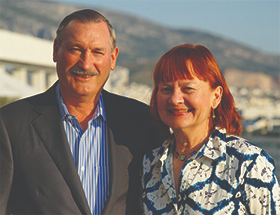 Richard Evans graduated from Oregon State University in 1969 with a degree in industrial engineering and later became president and CEO of Alcan, a Fortune-100 mining company and aluminum manufacturer based in Montreal. He is a senior international business adviser and director of companies including non-executive chairman of both Constellium, producer of advanced aluminum engineered products, and Noranda Aluminum Holdings, a U.S. regional aluminum producer. He is an independent director of CGI, Canada's largest IT consulting and outsourcing company.
Gretchen Evans is an artist and interior designer who graduated from OSU's College of Education in 1969 and subsequently completed master's courses at Legon University in Ghana, West Africa. In addition to her art, primarily in acrylics and mixed media, she volunteers as an art teacher in a low-income Oakland, California, school.
Humanitarian engineering seeks science- and engineering-based solutions to improve the human condition by increasing access to basic human needs such clean water or renewable energy, enhancing quality of life, and improving community resilience, whether in face of natural disasters or economic turmoil. Although the greatest needs often lie in developing countries, needs also exist locally. Oregon State's program is focused on disadvantaged communities in the Pacific Northwest as well as around the world.
"The technical skills of engineering are essential, but so are abilities we might call human skills – such as communication, problem-solving, leadership and the ability to work across cultures," Richard Evans said. "The humanitarian engineering curriculum is a structured way for engineers to practice those human skills in challenging real world settings."