Stewart Professor of Forest Operations
December 31, 2000
The Steward Professor of Forest Operations was made possible by a bequest from Faye Stewart, an OSU alumnus who was an innovator in the forest industry and a generous philanthropist.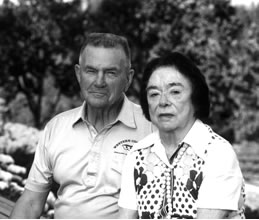 Faye was born to a logging family in Rujada, Oregon, and lived in "The Bears Den" lumber camp for the first two years of his life. In 1934 he enrolled at OSU (then called Oregon Agricultural College) to pursue a degree in logging engineering, following the suggestion of his father, LaSells Stewart. In 1946 Faye and his brother "Stub" Stewart and brother-in-law Larry Chapman bought the Bohemia Logging Company from LaSells, and turned the small business into a thriving industry leader. Throughout his career, Faye Stewart was on the forefront of several forestry innovations, including creating a market for laminated beams and logging from the air with helium balloons.
Faye and Lucille Stewart supported many endeavors at OSU, endowing a graduate fellowship in forest engineering and contributing to athletics and unrestricted funds. In the early 1980s Faye, Stub, and their sister, Dorothy Chapman, supported the construction and maintenance of the LaSells Stewart Center, named to honor their parents. Later Faye and Stub created the Stewart Professorship for Gene Research.
For his outstanding contributions to Oregon State University, Faye Stewart received the OSU Distinguished Service Award in 1992 and the E.B. Lemon Distinguished Alumni Award in 1993. He passed away in 2000, preceded by Lucille in 1996.