Thomas Hart and Mary Jones Horning Chair in the Humanities
December 31, 1992
OSU alumnus Benjamin B. Horning was internationally recognized for his work in fostering improved health care throughout Latin America. In his 14 years as medical director for the W.K. Kellogg Foundation, he pioneered the foundation's approach to providing coordinated technical assistance to Latin American countries.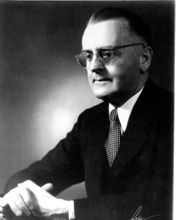 Horning got his start at Oregon State, earning bachelor's and master's degrees before serving in the U.S. Navy from 1917-1920. He subsequently earned his M.D. from Harvard and a master's in public health from the Johns Hopkins University. Before joining the Kellogg Foundation, he served as an epidemiologist for the Connecticut State Department of Health, chief health officer of the City of Hartford, Connecticut, and associate field director of the American Public Health Association. After leaving Kellogg in 1956, he was a medical education consultant for the U.S. Department of State for five years, until his retirement. He died on December 9, 1991, at the age of 101.
In his will, Horning left more than $3 million to Oregon State University to establish an endowed chair in the humanities. The Thomas Hart and Mary Jones Horning Chair honors the memory of his parents.
Corvallis attorney John Fenner, a friend who helped Horning develop his estate plans, said, "He wanted to build a bridge between the arts and the sciences. The major objective of this gift is to improve and extend the teaching of humanities to the sciences and other disciplines offered by Oregon State University."
Current Faculty Holders