Tom and Carmen West Faculty Scholar
December 31, 2012
Tom West received his bachelor's and master's degrees from the University of Tennessee, and taught at both Georgia Tech and Tennessee before earning his doctorate from Oregon State University in 1976 and joining its faculty. While at OSU, he served the College of Engineering as the head of the Industrial and Manufacturing Engineering Department, associate dean, and interim dean.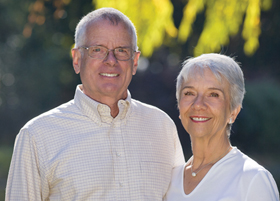 West helped modernize Oregon State's curriculum via the establishment of its manufacturing engineering and MECOP programs, and he authored two classic texts in engineering economics with Jim Riggs. Among other activities, he served as a member of the Board of Trustees of the Institute of Industrial Engineers, on the Engineering Accreditation Commission of ABET, and as a member of the committee that established the current ABET 2000 criteria by which all engineering programs are now evaluated.
West is a Fellow of the Institute of Industrial Engineers and a member of the College of Fellows for the Society of Manufacturing Engineers. He has been recognized as a National Society of Professional Engineers Outstanding Engineering Professor and as Oregon Industrial Engineer of the Year.
In 2012 West and his wife, Carmen, who worked in Hewlett-Packard management for many years, established the West Faculty Scholar endowment to continue to enhance OSU's industrial and manufacturing engineering programs.