U.G. Dubach Chair in Political Science
December 31, 1990
Ulysses Grant Dubach has been hailed as one of Oregon's greatest educators, having devoted 33 years to OSU as a professor and administrator. Although he died in 1972 at the age of 91, his Oregon State legacy continues to grow. Gifts from his estate as well as from his widow, Ida, and her estate have endowed the U.G. Dubach Chair of Political Science.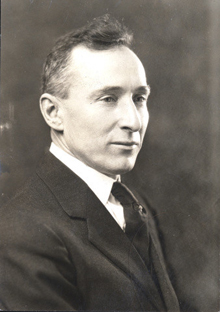 A Kansas native, Dubach earned his doctorate from the University of Wisconsin then moved west and started his Oregon State career as a political science professor in 1913. In 1924 he was named head of the department and also appointed OSU's first dean of men: positions he held until he turned 65, the age mandated by the state for retirement. Dubach moved to Portland and served as head of the political science department at Lewis and Clark College for 13 years. He retired a second and final time in 1960.
Despite his move to Lewis and Clark, part of Dubach remained at OSU. "My heart is in Corvallis, Oregon State … an institution without any question that hasn't a peer in its field," he wrote in 1948.
In 1951 the Oregonian honored Dubach as one of 100 people who made the greatest contributions to the state in its first 100 years. In 1967 Dubach received OSU's Distinguished Service Award in recognition of his career and his impact on countless people both in and out of the classroom. An inspiring lecturer, Dubach spoke frequently to civic, church, and youth groups on active participation in civic affairs. He gave 75 off-campus speeches in one year alone. His obituary notes that "a generation of Oregon State students remember that his office door was always open for what he called 'a gentlemanly meeting of the minds.'"
[Photo: HC0209, Courtesy OSU Libraries, Special Collections & Archives Research Center]