Walther H. Ott Professor in Poultry Science
December 31, 1994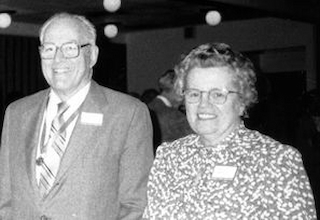 Walther Ott grew up on a poultry farm in Hermiston and came to OSU in the 1930s on a $100 4-H scholarship, awarded to him by the Union Pacific Railroad. He went on to earn an undergraduate degree from OSU in poultry husbandry in 1934 and a master's degree in animal nutrition in 1936.
After earning a doctorate from Pennsylvania State University in agricultural and biological chemistry, Walther did advanced graduate work at Yale University and joined the Merck Institute, where he enjoyed a distinguished 34-year career. In 1956, he was named Merck's director of animal husbandry, and later became senior scientist of animal research, the title he held until his retirement in 1976. He was named a fellow of the American Association for the Advancement of Science in 1964, and a fellow of the American Institute of Chemists in 1968; he also served as president of the Poultry Science Association from 1971-72. He passed away in 2010, preceded by his wife, Maxine Peterson Ott.
Maxine also was an OSU graduate, earning her degree in business education in 1934. A Corvallis native, she was the daughter of Sigurd Peterson, who taught at OSU from 1911 to 1954 and was a long-time chairman of the English Department.
Over the years the Otts generously supported OSU including gifts for the Valley Library expansion project, the Presidential Scholarship program, and the establishment of the Sigurd H. Peterson Memorial Scholarship in English. Their aim for the endowed position in poultry science, which they established in 1995, was to advance research and education in the field by supporting a poultry scientist in the early stages of his or her career.