While giving back to the university you love is rewarding enough, the alumni association recognizes how important our alumni are to the success of OSU. From travel rewards and savings to discounts on OSU gear, members get access to exclusive benefits and OSU resources.
Explore Benefits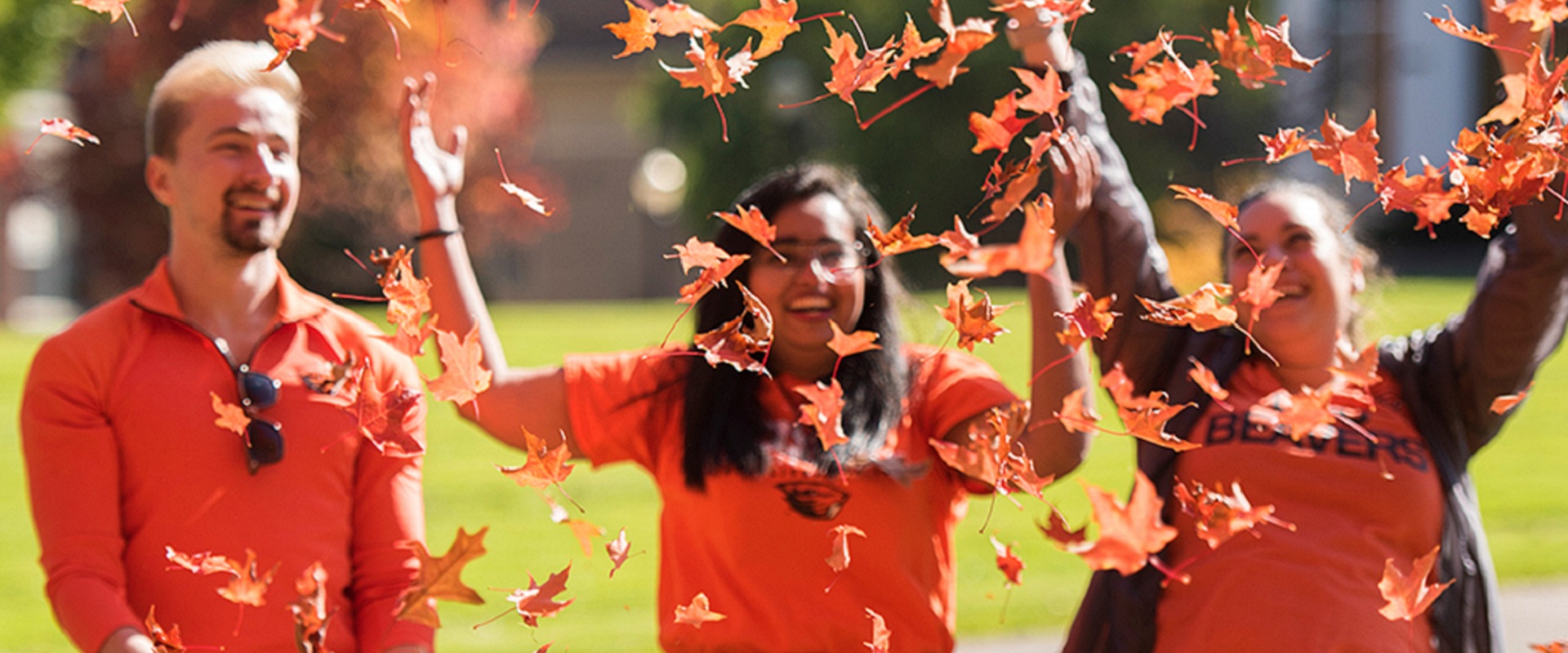 Discounts With Dell
Take advantage of reduced prices on the latest PCs, monitors and more with the Dell Member Purchase Program (MPP). Through the MPP website, OSUAA members receive exclusive monthly offers and best price guarantees, free enrollment in Dell Rewards (3% back and free expedited shipping) and access to the executive sales team to assist with personal purchases. Shop 24/7 at this site and member discounts will automatically be applied as "Additional Member Savings" at checkout.
Corvallis Club Savings
A special perk for lifetime members of the Alumni Association: Show your OSUAA membership card when signing up at the Corvallis Club and save up to $2,500! You don't have to love golf or live in Corvallis to become a member. The Corvallis Club offers non-resident and social membership-only options so you can grab a bite to eat, host a family gathering, hit the fitness center or simply relax at your home away from home. Learn more about what the Corvallis Club has to offer.
Access to University Resources
Dixon Recreation Center Access
Membership gives you access to the Dixon Recreation Center where you can work out with fellow Beavs (membership exclusions may apply). Learn more about the group fitness classes, training sessions and adventure classes.
The Valley Library Perks
Access private study spaces, rent books and take advantage of on-site resources at the Valley Library whether you are an Oregon resident or not. Check out the Valley Library!


Career Resources

OSUAA's Career Services  is here to help OSUAA members develop their workplace happiness through a variety of programs delivered in-person and virtually.
CH2M HILL Alumni Center Rentals

From tailgates and reunions to conferences and private events, the Alumni Center is the Willamette Valley's best event center for any celebration. Receive great deals on weddings, parties, family gatherings and more! Call us at 877-678-2837 and ask for Alumni Center  reservations for details.
Oregon Stater
OSU's award-winning alumni magazine is distributed to over 200,000 alumni and friends around the world three times a year – and as a member, you gain access to the magazine, even if you're not an OSU graduate. You can read the most recent version online.  If you do not currently receive the Stater, contact stater@osualum.com.
Display Your Diploma

Keep your success in plain sight. Purchase a customized OSU diploma frame through our partner, Church Hill Classics. Members receive a 10% discount on frames $140 and above. With every purchase, 10% goes back to the OSUAA Scholarship Fund. Email or call 877-678-2837 to get the discount code. Shop now.

Discounts on Beaver Gear
Show your Beaver pride with orange and black – and a 20% off discount on OSU gear online from our partner, Fanatics. With every purchase, 10% goes back to the OSUAA Scholarship Fund. Email or call 877-678-2837 to get the discount code. Cannot be combined with other offers. Shop now!
Exclusive Access to Shopping & Events
Update your wardrobe throughout the year with exclusive access to adidas, Columbia and Nike employee stores. Go behind the scenes or get special discounts on tickets to select attractions and activities. Our events listing will include any upcoming opportunities.
Travel Document Services
Receive special discounted rates and expert travel document services with G3 Global Services. Whether seeking visa processing guidance for destinations worldwide or filing expedited passport requests, G3's personalized services will get you on your way to a stress-free vacation. Pricing on this site reflects special savings for Oregon State University Alumni Association members.
Monthly Newsletter
Brought to you the first Wednesday each month, the e-newsletter contains current events, contest notices, printables and OSUAA updates. Not receiving the newsletter?  Update your information  to ensure we have your correct email.
Member Giveaways
Win prizes like tickets to athletic or  theatre  events, prize packs, gift cards and more, just by being an OSUAA member!
Wall Calendar
Keep track of your daily activities with one of our most popular benefits - an exclusive members-only beautiful campus calendar.
Birthday Card
Happy Birthday to you, Happy Birthday to You! As a member, you receive a Benny-themed birthday greeting every year around your special day.
Rental Car and Hotel Discounts
Going on a road trip or taking some time off? You deserve it AND you deserve to save while you travel. Save with discounts on hotel rooms and rental car fees.

Travel with OSUAA Group Travel

There is no better chance to see the Great Pyramids, tour the Taj Mahal, float the Amazon River or admire Holland's tulip fields. The experiences are endless when traveling with the OSUAA Alumni Group Travel program, and as an OSUAA member you're already eligible to travel with us.
Immerse yourself in some of the world's most interesting destinations. Meet local residents and learn about different cultures, all while traveling with other Beavers who share your love for exploration and Oregon State.
Travel Perks
No booking fees, a minimal deposit program, unlimited cash back and bonus credits on every vacation . . . do we have your attention, yet? Our Travel Perks member rewards program offers savings and top-tier service so you can get back on the path to adventure. Start your adventure with TravelPerks.com.
Pave the Way for the Future of OSU
Order an engraved paver and leave your mark or honor a loved one in the space where thousands of Beavers Unite – The CH2M HILL Alumni Center. OSUAA members receive a 20% discount. Email or call 877-678-2837 to get the discount code.

MemberDeals connects you with entertainment savings
Whether you're seeing your favorite artist on tour, catching an unmissable sporting event or visiting a theme park with the whole family, keep the good times rolling with thousands of entertainment and travel discounts up to 60% from MemberDeals.
Have Some Fun On Us!
Add a little orange and black to your holidays or everyday life with these print and digital member perks. They're easy to use, just download your  favorites  and enjoy!
Frameables - Make for Great Gifts!
Holiday & Seasonal