7 questions for the 7th Generation – Allison Davis-White Eyes, Ph.D. '13
January 10, 2022
After 20 years of service and commitment to Oregon State University, Allison Davis-White Eyes, Ph.D. '13, joined Fielding Graduate University in Santa Barbara, California as their new vice president for diversity, equity and inclusion. We asked her about her time at Oregon State and what made the most impact on her.


What were some of your greatest achievements while at Oregon State?
During my tenure at OSU, the things that give me a sense of pride are the work that President Ray did in getting the new cultural resource centers funded and the building started. So many wonderful people were a part of the process, it was truly an honor to serve in a community collaboration including students, community members and administrators. Larry Roper led a culture within student affairs that allowed for the student voice to inform the process, and John Paul Jones, Native American architect, pulled together a team of talented architects to build out the designs. During my tenure as assistant Vice provost of student affairs and director of diversity and cultural engagement, we were able to see the completion of all the centers and then the official move and recognizing of Ettihad Cultural Center. We were also able to secure funds to hire the amazing and talented staff of all the cultural resource centers (Whitney Archer, '14, Amarah Khan, Ph.D. '13, Luhui Whitebear, '03, '13, '16, Ph.D. '20, Terrance Harris, Cindy Konrad and Reagan Le, '05, '07 (who is now a director who oversees the administration of the centers). This was a monumental lift and we secured funding and program dollars along with various grant funding streams to supplement student success programs. In that time, we also restructured our programs to provide for intersectional learning opportunities and additional staffing that included amazing individuals like Jeff Kenney, who initiated dialogue programs in student affairs, Jason Dorsette, who took on the Distinguished Scholars Initiative, Oscar Montemayor ,who led several Latinx initiatives along with the Adelante program, and Charlene Martinez who developed a robust Multi-Racial Aikido and Promise Internship Program. We partnered with colleagues in ethnic studies, University Housing and Dining Services, the School of Public Policy, and with Wanda Crannell in College of Agricultural Science. We expanded local learning experiences with Emily Bowling and global learning opportunities through the Clinton Global Initiative and through the Transatlantic Student Symposium.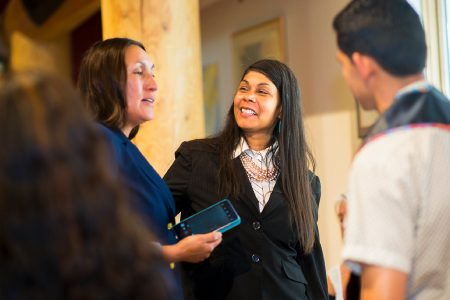 We also tried to build out external tribal partnerships. To that end, the historic MOU with Warm Springs was signed at OSU after a two-day excursion first at Warm Springs and then a follow-up visit to OSU. We engaged several academic units and the Division of Outreach and Engagement. We expanded the OSU powwow with additional funding, utilizing the powwow as a major recruitment event that brings Native/Indigenous families from all over the state of Oregon and even the U.S. and Canada. We expanded Native American recruitment through these efforts that rivaled schools such as Montana State University. When the funding model changed and we lost those funds, we lost some of our recruitment clout. In the past two years under the leadership of Vice Provost for Student Affairs Dan Larson, we have received renewed support, and I know this will bring back the powwow and the recruitment numbers we saw in the early 2001-07.
The accomplishment that I am most proud of, however, is the growth of the individuals that served under my leadership. My goal was to have a team that would be dedicated to advancing their scholarship and academic voice, to add to the body of knowledge on diversity as scholar-practitioners, which they are. To that end, I am very proud of Jeff Kenney, Luhui Whitebear, Whitney Archer, Cindy Konrad, Jason Dorsette and aspiring doctoral student, Terrance Harris. In addition, I am equally proud of the publications of Charlene Martinez who has written extensively on these topics, as well as Amarah Khan who is now in Seattle working with the mayor of Seattle, and Reagan Le for moving into a leadership role as director of diversity and cultural engagement. Each of them will touch many lives as they move forward in their careers and through their scholarship.
Last, I would like to add that the work of all my colleagues is what makes success, nobody does anything alone. Right now, we have a fantastic online Ecampus program offerings for Native/tribal students led by Marleigh Perez, Ecampus director of student success, and this is a point of pride.


Explain and provide examples of the success of the Distinguished Scholars Mentoring Program, a program for male-identified students of color.
The Distinguished Scholars Mentoring Program was started because of national as well as statewide data that shows male identified students of color are facing unique challenges in higher education environments. The grant for the program was part of a larger grant through the American Association of Colleges and Universities. The research from the grant was used to assist a consortium of other institutions in identifying needs and addressing issues that seemed endemic to this demographic. The program has since been institutionalized and is being led by Jason Dorsette, who has done a phenomenal job in growing the program and giving it added life. His experiences from his previous position in North Carolina have helped grow the program, as well as generous support from the Division of Student Affairs in ensuring the success of the program.


You have been an important member of the Native and Indigenous community at Oregon State University. How has the Native and Indigenous community changed in your time at OSU?
I am very proud of this community, and I have seen it grow over the years in many new and different ways. First, we have a new Longhouse which now has a new name, Kaku-Ixt Mana Ina Haws, which incorporates the Polynesian notion of Mana and stands for internal power/strength. I believe this exemplifies the spirit of inclusivity that we strive for at OSU, particularly as it relates to an understanding of indigeneity that is broader than federal terms of identification. This is important because we now live in a world where we need knowledge collectives to address the real challenges we face at the moment, such as global climate change, a pandemic, cultural and natural resource sustainability and the overall health and well-being of our communities. Under the leadership of Luhui Whitebear, who was one of my former students as an undergraduate and later a graduate student, I have seen the Native community become one that is inclusive, thought-provoking, and one that seeks to raise up national Indigenous issues as issues of concern and attention for the whole campus community and beyond.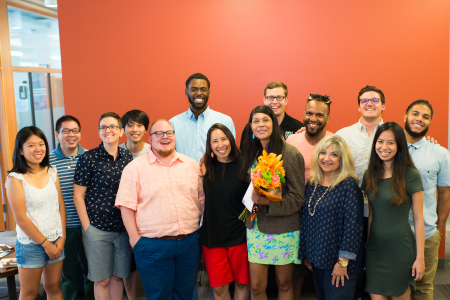 What do you see as issues with the advancement of Native and Indigenous students toward securing an undergraduate degree?
The issues vary depending upon the communities, so I cannot speak for all Native or Indigenous students or people. Some of the issues I have seen are the following: obligation to home life, whether it be a job in their home community, or caregiving for children, parents, grandparents or siblings. I also know that many students will mention that few universities reached out to their communities, in other words, they did not see a Native recruiter. This is such a critical link to the university. In my previous work at the University of Oregon, I created the first Native American recruiter position in the Office of Admissions within the state of Oregon. It is satisfying to see that position is still there at University of Oregon and is filled by an Indigenous individual who connects with all our tribal communities. Fun fact: my son held that position when he was at University of Oregon! There have been many wonderful young Native people who have held the position and their connections and contact to tribal communities are critical. Third, mental health and well-being needs to be acknowledged. Students are away from home and need culturally responsive support. Fourth, I would say another issue is funding--this is an issue for everyone. There is a myth that the tribes all have casino dollars that could, or should, pay full tuition for their students. Sadly, this bigoted view exists and is erroneous. Institutions of higher education need to address these issues and realize that financial assistance is still a critical issue and that education, for the most part, is a treaty right. In that sense, there is an obligation that needs to be addressed, particularly by land grant institutions whose physical buildings are on Indigenous land and have made profits from the land itself. I am proud to say that OSU has made moves in this direction and currently has four scholarships that exist for Native American students, and also has 12 Cobell Scholars on campus. OSU is looking to expand opportunities for all Native American students, and I have no doubt that we will succeed.


What is the status of memorandums of understanding between Oregon State University and Oregon tribes?
The current status is that Oregon State has delivered on our word to send out a government-to-government MOU draft that affirms our relationship with the Nine Tribes of Oregon, and are awaiting their responses to the draft and look forward to our partnership together. The most important aspect of this MOU is elevating our relationship with the Nine Sovereigns so that there is reciprocity, respect and sincere collaboration around issues that matter.


Beside the coronavirus, what do you believe is the most important issue facing Native and Indigenous communities today?
I cannot speak for how individual tribal and Indigenous communities define their largest issues. I do know over the past year and a half the coronavirus really continues to be a huge issue, it underlies every problem that we see and is an indicator of the underlying fractures and fissures within the somewhat outdated colonial systems that run all of our services and support for all communities, not just tribal communities. If you take the coronavirus alone, it has revealed in real time, with real-world consequences, the inequity that exists in our society with regard to people of color and other vulnerable communities. I think this is a real and pressing issue that will inform how we move forward. In conversations with tribal leaders in Oregon and others, attention has also been given to fire, water, natural resources and cultural resources. Lastly, I would say that sovereignty still stands as an issue of paramount importance and is one that needs broader recognition from outside institutions, such as schools, post-secondary institutions, and state and federal agencies.


What do you believe will be your role within the Oregon State community now that you've moved to Fielding Graduate University?
I plan on being a part of the OSU family--I love it here and feel blessed by all the gifts of friendship I received from colleagues, students, community members and others. This is a place where, quite frankly, I grew up. In other words, I learned to grow, not just as a professional but as a person, a human being, a reflective individual. Moving forward and to a different position is an opportunity to apply my learning and test myself in a new way, with new colleagues and new challenges. There will be opportunities to find ways to connect new friends and colleagues to Oregon State University. If there is one lesson I have taken away from the current coronavirus pandemic, it is that every relationship is a gift. It should be nurtured and treated as a precious jewel. I am hoping to do just that in my new position and to share the jewels with Oregon State University.