Olivia Quiroz, '05, is a leading voice for health care policy and equity in Oregon and a 2023 Alumni Fellow.
April 10, 2023
By Jordan Friedman

Since her graduation from Oregon State University in 2005, Olivia Quiroz has worked fervently to drive change. Her mission: address health disparities for Latinx people and other underserved communities.

Nearly two decades after earning a bachelor's degree in health promotion and education at OSU, her list of achievements is nothing short of impressive.

Under Quiroz's leadership, the nonprofit Oregon Latino Health Coalition helped pass historic state legislation that expands eligibility for Medicaid to adults regardless of their immigration status. In early 2021, Quiroz was also a leading advocate for racial equity in the state's COVID-19 vaccine rollout, successfully working to ensure vaccines were prioritized for the Latinx communities hit hardest by the virus.

"We know we can do a regional approach and get vaccines to our communities," Quiroz said at a virtual press conference that year, according to media coverage on KGW.

In a previous role, Quiroz was also heavily involved in implementing Communities Putting Prevention to Work, an initiative led by the Centers for Disease Control and Prevention (CDC). It's an effort to reduce chronic diseases tied to obesity and tobacco use and promote healthy living in 50 communities through environmental and food policy, greater access to cessation resources and other methods.

For her leadership and vision in promoting equity across Oregon, the Oregon State University Alumni Association is proud to honor Quiroz as a 2023 Alumni Fellow. The annual recognition, which dates back to 1988, showcases alumni who have distinguished themselves in their careers and communities, with a focus in 2023 on those who reside in Portland and surrounding areas.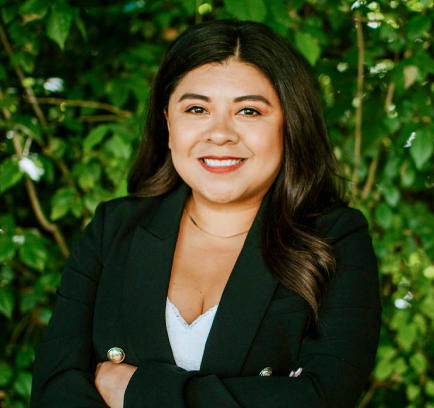 A passion rooted in life and work
Quiroz's interest in advancing equity and inclusion is partly rooted in her childhood and early career. At age eight, she and her family – three sisters, three brothers and her parents – migrated from Mexico City to The Dalles, Oregon, in search of a better life and educational opportunities. There, her father became a farm worker. Then, in the early 2000s, Quiroz enrolled at Oregon State.

Quiroz quickly found a community at OSU at the Centro Cultural César Chávez, which supports Latinx and Chicanx students in achieving their educational and professional goals. "I met a few students of color in public health, and we worked together to get through classwork such as anatomy and physiology," Quiroz told Synergies, a publication of OSU's College of Public Health and Human Sciences, in 2016.

Quiroz would go on to become a founding student member of the OSU Chicana/o Latina/o Alumni Association – a group that served as a bridge between current and former students within these communities.

Upon graduating, Quiroz started a job as a patient navigator at a volunteer-run clinic providing free health care. As most of her patients were members of the Latinx population, Quiroz began recognizing significant health care disparities – a realization that would profoundly shape her career.
Driving change for Oregon's Latinx communities
This experience helped inspire Quiroz to become an educator focused on adolescent sexual health at the Multnomah County Health Department. She eventually moved into a more policy-focused role, becoming a leading contributor to the equity framework for The Portland Plan, a strategic roadmap to help the city thrive. Quiroz also led initiatives like Empezando con Salud, a trauma-informed program that promoted wellness and care for Latinx babies and their families.

Fast forward to Quiroz's current role as executive director of the Oregon Latino Health Coalition, and her work to enhance health care equity persists. The nonprofit organization was a leading advocate for the passage of Cover All People (HB3352), a piece of legislation that took effect in July 2022 and is now known as Healthier Oregon. This success made Oregon the fifth state in the nation to provide state coverage to undocumented adults.

The state law gave health insurance to roughly 80,000 individuals who previously didn't have coverage due to their immigration status. It was an expansion of the 2017 Cover All Kids legislation, which provided coverage to thousands of undocumented children across Oregon.

Quiroz, who has also volunteered for different health and multicultural organizations, is still active in the OSU community. She helped to revive the group now known as Vamos OSU and was one of the first alumni to help drive the OSU Alumni Multicultural Steering Committee.

In Synergies, Quiroz described OSU as her "launching pad" – the place where she first learned about social justice and the disparities that exist in underserved communities.

"It's preparation for the real world, and I am a bridge," Quiroz said. "I feel like I'm living my dream."