Cecil and Sally Drinkward Professor in Structural Engineering
December 31, 2013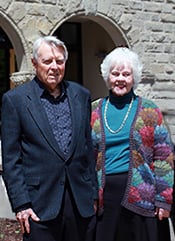 A graduate of Caltech, Cecil Drinkward joined Hoffman Construction Company in 1967, serving as its president and CEO from 1974 to 1991, then as president of Hoffman Corporation. One of the largest construction companies in the Pacific Northwest, with principal offices in Portland and Seattle, the company has had a long, close relationship with Oregon State University, hiring many of its engineering graduates.
In 1990 Cecil Drinkward joined the OSU Foundation Board of Trustees. In addition to serving a term as board president, he chaired its investment committee. He was named to the OSU Engineering Hall of Fame in 1998.
Building on their past generous support of the university, in 2013 Cecil and his wife, Sally, made a $1 million gift commitment creating the Cecil and Sally Drinkward Professorship in Structural Engineering. "This is payback for the training Oregon State provided to the engineers over the years who helped me build Hoffman into the premier Oregon general contractor," he said.
An arts enthusiast, Sally Drinkward is a trustee of the Oregon Symphony Foundation and a member of ARCS Foundation Portland. Cecil passed away in 2017 at age 89.