Celebrating Letitia Carson
April 9, 2023
From the Spring 2023 issue of the Oregon Stater magazine

By Scholle McFarland
On Oregon State's Soap Creek Ranch, just north of Corvallis, there's a plot of prairie land with special significance to the history of Oregon and its earliest Black residents. Letitia Carson, one of the first Black woman homesteaders in the state, settled here with her white husband, David Carson, in 1845. But problems came after David's death in 1852, when she and the couple's two children were forced off their land.
Oregon did not recognize interracial marriage, and the state's exclusion laws banned Black people from living in the state. Still, incredibly, Carson filed two lawsuits in the mid-1850s against the neighbor administrating her late husband's estate and won both. Though she did not get her original farm back, she moved south to Douglas County and in the 1860s became one of the only Black women in the Pacific Northwest to make a successful homestead claim. (There are no photographs of Carson, but her daughter, Martha, is shown here.)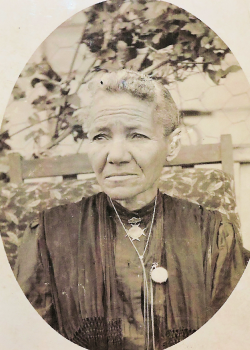 During his master's research, Bob Zybach, '90, MAIS '00, Ph.D. '04, stumbled upon Carson's history. He and former student Janet Meranda are credited with uncovering many of the Carson documents in the mid-1980s and 1990s. Their work inspired the new Letitia Carson Legacy Project. This partnership between the Black Oregon Land Trust, Oregon Black Pioneers, the Linn and Benton Counties branch of the NAACP and Oregon State University was created in 2021 to preserve and honor the history of her life.
The Letitia Carson Legacy Project (LCLP) recently released a collection of digital exhibits, with support from the Oregon Heritage Commission, available at letitiacarson.omeka.net, and an eight-panel traveling exhibit, created in partnership with The Ford Family Foundation. Faculty and student projects include archaeological exploration at the homestead site and oral histories with Black farmers. The LCLP is raising money for a second archaeological field school at the site, additional events and paid student internships. Go to letitiacarson.oregonstate.edu to learn more. Also, keep an eye out for upcoming events, like the project's Juneteenth celebration.