Celia Strickland Austin and G. Kenneth Austin III Professor in Public Health and Human Sciences
December 31, 2013
In 2013 Celia Strickland Austin and G. Kenneth Austin III made a generous gift commitment to establish an endowed professorship in the College of Public Health and Human Sciences. They had previously created a research endowment to support the collaborative work of faculty investigating the prevention and management of cancer, particularly breast cancer. The two funds were combined into one professorship to further advance research on the prevention of chronic disease.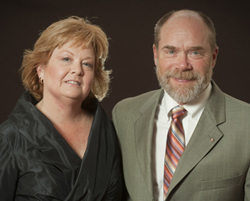 A 1976 Oregon State graduate in home economics communications, Celia is a mother, businesswoman, philanthropist, volunteer, and breast-cancer survivor who is interested in research exploring the correlation between diet and breast cancer, how breast cancer metastasizes to bone, how exercise programs help cancer survivors reduce fractures and frailty, and the environmental factors that increase cancer risk. The Austins hope OSU scientists can help others avoid what Celia went through. "It makes much more sense to prevent cancer than to have to treat it," she said.
At Rain Dance Ranch in Newberg the Austins breed and raise award-winning llamas for breeding stock, show, pack animals, and pets. Ken earned his business administration degree from OSU in 1976 and has been active with A-dec, the business founded by his parents which is one of the largest dental equipment manufacturers in the world. Through Ken Austin Woodworking he designs and handcrafts unique furniture and other wooden items, many of which are featured at the family's Allison Inn and Spa.
Both of the Austins have served the OSU Foundation Board of Trustees in addition to other volunteer leadership roles at Oregon State. They have made many generous gifts to the university, including creating an endowed scholarship for veterinary medicine students with special interest in camelids. In 2012 Celia Austin was named an Alumni Fellow by the OSU Alumni Association.