Cheryl J. Lutz Miller Professor
December 31, 2020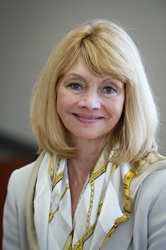 After graduating from OSU's College of Education in 1972, Cheryl Lutz Miller went on to earn master's and Doctor of Education degrees from University of Oregon and Portland State University. She had an extended career in education and organizational development, working in both the public and private sectors, and she served many years on the OSU Foundation Board of Trustees. In addition to other generous gifts to Oregon State, she has made arrangements through her estate to establish an endowed professorship in the Hallie Ford Center for Healthy Children and Families.
The purpose of the endowment is to increase OSU's focus on community implementation of evidence-based programs supporting effective parenting and early childhood development. Her estate gift also establishes endowments for a visiting speaker fund and an internship fund for OSU students committed to working with vulnerable families.
Through the research and outreach efforts supported by Lutz Miller's gift, thousands of at-risk children and families will have greater support in their communities to live healthier lives and achieve greater potential. Lutz Miller noted, "As an at-risk youth, I experienced the effects of abandonment, poverty, and social isolation. I know deeply the challenges of struggling families and at-risk youth. Having the opportunity to attend OSU changed the vision and direction of my entire life. I am humbled by this opportunity to support healthy family and children initiatives at OSU. I would only hope that many others would join me and give generously."