Doug and Jana Tindall Civil and Construction Engineering Faculty Scholar
December 31, 2019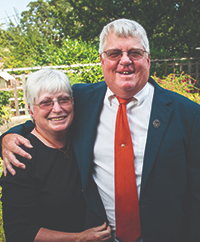 Doug and Jana Tindall first met at their junior high school in Salem. Part of a family of Oregon State Engineers, Doug was already planning to go to OSU, where he ended up playing trombone in the marching, symphonic and pep bands. After earning his civil engineering degree in 1978 he began a 32-year career with Oregon Department of Transportation, and he served on OSU's Civil and Construction Engineering Industry Advisory Board.
Jana, now retired from Oregon Parks and Recreation, began her career with the university while Doug was in school. She and Doug are huge sports fans, and Jana has served on boards for OSU Athletics plus Benton County Master Gardeners. Longtime season ticket holders to multiple sports, the Tindalls have frequently traveled with the teams to away games. Doug didn't miss a home football game for over 50 years.
The Tindalls have planned estate gifts creating an endowment supporting faculty in the School of Civil and Construction Engineering as well as endowments for OSU baseball, women's basketball and the marching band. The Doug and Jana Tindall Civil and Construction Engineering Faculty Scholar will be awarded on a three-year rotating basis.