Alumni make generous gift to advance marine research and technology
November 16, 2023
By Michelle Klampe
CORVALLIS, Ore. – A $20 million gift to the Oregon State University Foundation by alumni Judy and Mike Gaulke will create a new center to lead and support innovative research and development of technology that helps society better understand, protect and utilize the ocean and its environment.
The Gaulke Center for Marine Innovation and Technology will emphasize interdisciplinary research such as collaboration between oceanography and artificial intelligence, two areas of academic strength at Oregon State.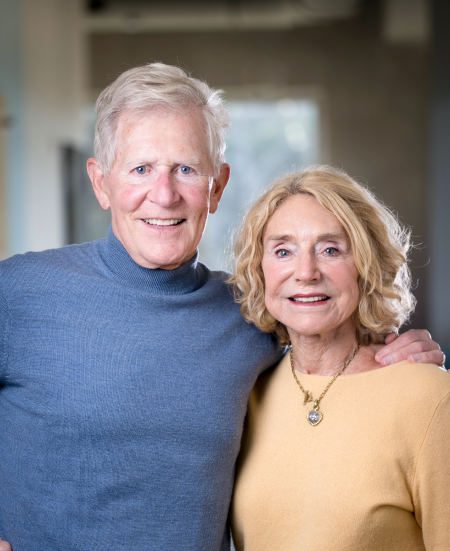 "We are grateful to the Gaulkes for their support as we boldly tackle some of today's biggest challenges," said Oregon State University President Jayathi Murthy. "What is so special about this gift is that it leverages OSU's global distinction in oceanography with our extraordinary strength and depth in engineering. The Gaulke Center will inspire and enable greater collaboration and technological innovation in ocean research."
The Gaulkes' gift provides funds to establish the Michael and Judith Gaulke Chair in Ocean Innovation. The person holding this chair will serve as executive director of the center and hold a joint faculty appointment in the OSU colleges of Engineering and Earth, Ocean, and Atmospheric Sciences.
The gift also includes start-up funding for the new center, support for faculty and graduate students and funding for early-stage research or projects that have significant potential impact but may be considered too risky to receive other types of funding. An endowment will provide long-term support.
"Our future lies in the ocean,
and it's very clear that we need to change
how we care for it"
The Gaulke Center also will take advantage of the resources of the Jen-Hsun and Lori Huang Collaborative Innovation Complex, a research and education facility that will house one of the nation's most powerful supercomputers and feature team-based approaches to solving global challenges in areas such as oceanography, climate science sustainability and water resources.
For example, Oregon State researchers are currently working on projects to develop an unmanned robotic system that could independently explore under ice shelves using artificial intelligence and robotic boats that aid in measuring glacier ice melt.
"Our future lies in the ocean, and it's very clear that we need to change how we care for it," Mike Gaulke said. "Marine sciences can help, and it's very exciting to see how advanced technologies can provide tools and approaches for addressing problems."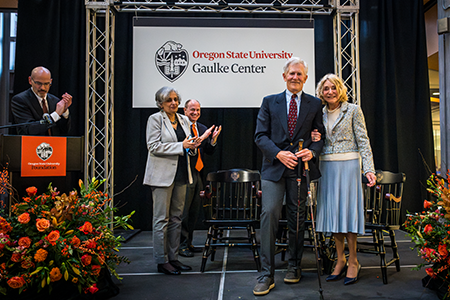 The Gaulkes, who both grew up in Hood River, Oregon, and now live in the San Francisco Bay area, are Oregon State alumni who have a long history with the university. In 2012, they established the first endowed chair in the College of Engineering's School of Electrical Engineering and Computer Science.
They were inspired to make their most recent gift because of their lifelong love of the ocean.
"We have had the opportunity to sail, dive and swim in oceans around the world, and we have seen dramatic changes within our own lifetime – from the disappearance of sharks to coral bleaching," Mike Gaulke said. "From the massive worldwide problem of junk in the ocean to the opportunity of harnessing sustainable energy, there are so many challenges to address. We believe OSU is the ideal place to invest in creating solutions, and we hope others will join us."
Mike Gaulke graduated from OSU's College of Engineering in 1968 and spent more than 20 years as an executive in Silicon Valley, including 13 years as CEO of Exponent Inc., an engineering and consulting firm. He was inducted in the OSU Engineering Hall of Fame in 2008.
Judy Gaulke, then Judy Mellenthin, earned a home economics degree in 1965. After graduation she spent four years as an international flight attendant for Pan American, then became the cookbook editor for Sunset Magazine and had her own food styling business before becoming a full-time artist.
"The Gaulke Center is a perfect example of what's possible when we combine our donors' deepest passions with the university's greatest strengths," said Shawn L. Scoville, president and CEO of the OSU Foundation. "The Gaulkes are exemplary philanthropists, and we are grateful for their profound commitment to caring for the world's oceans as well as their deep love for Oregon State University."
A search committee is being formed to hire the Gaulke Center's executive director, with the goal of having the position filled by summer 2024.
The Gaulkes' gift is part of Believe It: The Campaign for Oregon State University. Publicly launched in October 2022 and led by the OSU Foundation, this $1.75 billion fundraising and engagement campaign seeks to inspire gifts supporting educational access and student success, research and innovation addressing challenges of global importance, and programs that strengthen communities across Oregon and beyond.