Gene and Eleanor Otwell Chair for University Orchestras
December 31, 1999
In 1999 Eleanor Jenks Otwell '33 gave $1.5 million to create an endowed chair in the Department of Music. Otwell, who passed away in 2005, left another $800,000 in her estate to expand funding for the position. Originally called the Endowed Chair for University Orchestras, the department renamed the position in honor of Eleanor and her husband, Gene, who passed away in 1997.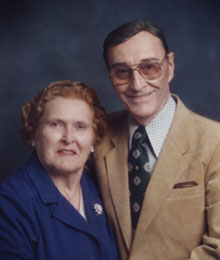 As an OSU education student, Eleanor played trumpet in the symphony orchestra and sang in the Madrigal Club. She and her husband regularly attended OSU-Corvallis Symphony Orchestra events, and had a long-standing relationship with the local music community. The Otwells were outstanding supporters of music at Oregon State and established the Captain Beard Band Hall Fund and the Captain Harry Beard Scholarship in honor of Eleanor's uncle, who directed the ROTC Cadet Band for more than 40 years.
The Gene and Eleanor Otwell Chair for University Orchestras celebrates beauty and excellence in the performing arts and strengthens OSU's commitment to the humanities—a vital part of the university's mission. Some of the funding from the endowment provides scholarships to help OSU recruit talented student musicians. Additionally, the endowment subsidizes admission tickets, enabling all OSU students to attend the concerts free of charge. Earnings also support visiting musicians who perform and teach, and allow the orchestra to give more frequent concerts.