George R. Hyslop Professor for Oregon Grass Seed Research and Education
December 31, 1993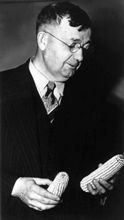 In 1997 various organizations and individuals associated with Oregon's grass seed industry joined with the Hyslop family to establish the George R. Hyslop Professorship, in memory and recognition of Professor Hyslop's many contributions to Oregon agriculture. The intent of the professorship is to enhance and focus research and education efforts—both in teaching and Extension—on specific problems of the Oregon grass seed industry, which Professor Hyslop helped establish in the first half of the 20th century.
George Hyslop's career—spanning 35 years in Oregon, from 1908-1943—was a model of careful scientific inquiry, dedication, and hard work. After receiving his bachelor's degree in agronomy from Ohio State College, he and his wife Susan came to Corvallis in the summer of 1908. In 1916 he was appointed Professor of Farm Crops at Oregon Agricultural College, and during World War I was instrumental in developing Oregon's seed certification system.
An innovative researcher and effective teacher, Professor Hyslop laid the foundation for a grass seed industry, a hop industry, and a fiber flax industry, all in Oregon. He also pioneered a system for shipping Oregon potatoes and surplus forage from irrigated farmlands by sea to the eastern states, thus minimizing Oregon's isolation from major market areas. In addition, Professor Hyslop influenced numerous students who went on to have a major impact on Oregon's agriculture, among them E. R. Jackman, the popular and effective Extension agronomist for whom the E. R. Jackman Foundation is named.
Since George Hyslop's death in 1943, a memorial scholarship fund established by the late professor's friends and colleagues has supported deserving students in the College of Agricultural Sciences.