James R. Welty Professor in Thermal-Fluid Sciences
December 31, 1996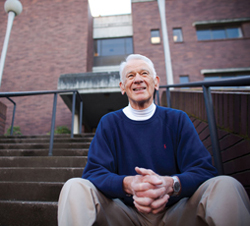 James R. Welty arrived at Oregon State University as a freshman in mechanical engineering in 1950 and has been associated with OSU ever since. He earned his bachelor's degree in 1954 and began teaching at OSU in 1958, receiving his doctorate in 1962 and becoming a full professor in 1967. He served as head of the Department of Mechanical Engineering from 1970 to 1985, at which time he returned to full-time teaching until his retirement in 1996.
Over the course of his long and productive career, Welty received numerous teaching and research awards, including the American Society of Mechanical Engineers' Centennial Medallion and Dedicated Service Award. He is recognized worldwide for his contributions to thermal fluids, the area of mechanical engineering concerned with heat transfer, fluid mechanics, and thermodynamics.
Upon his retirement, Welty and his wife Sharon Hastings-Welty, a 1975 OSU graduate in home economics, pledged a gift to the College of Engineering toward establishing the Welty Professorship. This donation, in combination with gifts from various other donors honoring Professor Welty on his retirement, helped the position reach full endowment by 1997.
The Welty Professorship is intended to keep Oregon State University at the forefront of critical technologies such as ink-jet printing, microscale energy conversion processes, electronic equipment cooling, and property measurements related to electronic equipment design. In addition, it helps ensure OSU's continued excellence in mechanical engineering education.