L. W. "Bill" Lane Professor in Family Business Management
December 31, 1992
Ambassador L.W. "Bill" Lane, Jr., and his wife, Jean, contributed funds in 1993 to establish an endowed professorship in family business management. It is part of OSU's Family Business Program, which provides information and training to family-owned and operated businesses.
Lane, who was U.S. Ambassador to Australia from 1985 to 1989, previously served as chair of Lane Publishing Company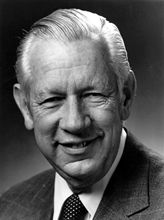 of Menlo Park, California: the original publisher of Sunset magazine and books. The Lane family owned the company until it was acquired by Time Warner in 1990.
Lane was a Distinguished Visiting Lecturer in the Family Business Program in 1991. He passed away in 2010.