Laura B. Smith Faculty Scholar
December 31, 2020
In 2020, Murray and Linda Smith made a gift that included creating endowed faculty funds in honor of Murray's parents, who both served as Oregon State faculty during the period between 1947 to 1968. The Laura B. Smith Faculty Scholar Fund supports College of Business faculty in interior and apparel design.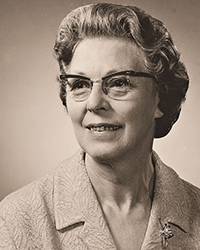 Native Canadians, Laura and Cairns Smith met in Saskatchewan in the 1920s. After a prolonged courtship they married and later emigrated to the United States to pursue advanced degrees, as both were interested in furthering their academic careers. In those days, many institutions of higher learning had restrictions that prevented having more than one full-time teaching position within a family. Thus, to pay off their student loans, the couple often had to teach at different universities, sometimes even in different states: Texas, Ohio, Oklahoma, California.
During Cairns' first year on the history faculty at Oregon State College, Laura and their son Murray were living in Kansas, where Laura was teaching at Kansas State University. The family decided Corvallis was the right place to put down some roots and reunited. Due to the two faculty restriction, Laura could not become permanent staff at OSC but taught intermittently from 1946 to 1967, appointed to temporary positions in art and in the Department of Clothing, Textiles and Related Arts. Although interior design and watercolor painting were her two major fields of interest, she occasionally taught classes in fundamental and advanced design, house planning, design and mechanical drawing. Photo from 1965 provided by the Smith family.