Legacy Rooted in Oregon – Diane Freres, '73
August 30, 2022
Diane Nurmi met her future husband, Ted Freres, at a party after a Beaver football game in the early 1970s. Ted was a member of "Beaver Fever," a group of boisterous fans hosting their own style of celebrations in a roped-off area inside the Oregon State football stadium, and Diane was part of the Rain Drops Dance Team. That evening a group of sorority sisters attended the party and introduced Diane to Ted. Seldom apart from that time forward, the two graduated, Ted with a degree in business administration with a forestry minor and Diane with a double major in business administration and mathematics.
Fifty years have since passed. During this time, Diane and Ted married and settled with their children in Stayton, Oregon. Ted took on the mantle of his family's business, Freres Lumber (now Freres Engineered Wood), a Santiam Canyon company established by his father 100 years ago. The couple remained connected to OSU through countless Beaver games and trips organized by OSU, which took them around the globe for business and pleasure. Ted and Diane's mutual love for the OSU camaraderie and community never stopped, but rather continued throughout their lives.
Diane and Ted cherished a long history of giving back to the local Santiam Canyon community. Since Ted's death in 2018, Diane has carried on their mutual commitment toward intentional and deliberate gifting to organizations that enrich their communities. She believes that the beneficiaries of these gifts must be focused on empowering future generations by providing a solid moral and ethical foundation for children and young adults through hard work, achievement, personal development and critical thinking.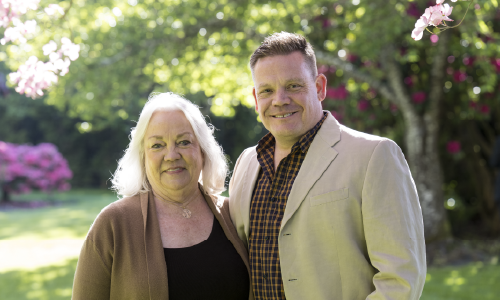 Pictured: Diane Freres and her son Tyler

"I care about OSU and the opportunities it provides to foster personal development and achievement. OSU represents the Oregon I love by the rural communities it supports." –Diane Freres, '73

The Freres family has been giving generously to OSU for years, in support of student-athletes and the groundbreaking Oregon Forest Science Complex, a university project to which Freres Engineered Wood contributed through monetary contributions, innovative wood products and expertise. Today, Oregon State University and Freres work closer than ever, pioneering innovative uses for wood products and encouraging responsible forest management.
Diane and Ted sought to be builders of communities as well as structures, so they loved contributing to facilities that helped enrich the educational experience. The designs for the Completing Reser Stadium initiative in 2021 spoke to Diane's heart as a perfect opportunity to show her support for OSU Athletics while also building community with the incorporation of a health facility and a center to welcome new and prospective students and their families to campus. As such, the transformed Reser Stadium will serve OSU 365 days per year.
Diane has always instilled a sense of lasting legacy within her family. Her suggestion of a large gift to OSU for the completion of Reser Stadium was met with enthusiastic agreement by her sons as a continuation of the same intentional gifting that Diane and Ted had always pursued.
"Our father would have loved the opportunity to donate to this project, and he would be proud of mom for giving with such conviction," say Diane's sons, Tyler and Kyle.
With that, Diane became one of the 12 critical donors who chose to step forward with their first-ever gift of $1 million or more to the university for the Completing Reser Stadium initiative. Diane was one of a group of twenty donors making gifts of $1 million or more to the project. Because of her generosity, she became a member of the Milton Harris Society, OSU's most significant donor recognition program.