Lois Bates Acheson Dean
December 31, 2005
Lois Bates Acheson, a 1937 business alumna, endowed the first chair in the Carlson College of Veterinary Medicine as part of a $21 million bequest to the college in 2005. Acheson's gift was the second largest gift ever made to Oregon State University.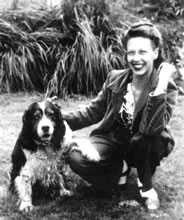 During her lifetime, Acheson broke barriers in the business world. In 1948 at the age of 32, she became vice president of Black Ball Freight Service, during a time when women rarely held executive positions. She helped steer the freight carrier into new territory, constructing the ferry, the M.V. Coho, which runs between Port Angeles, Washington, and Victoria, British Columbia. When her husband, Robert Acheson, passed away in 1963, she took over the helm of the company. In 1975, she sold the trucking business to focus on the ferry system, which still runs today.
Lois Acheson had a lifelong interest in animals and veterinary care. For many years, she built a scholarship fund to benefit OSU veterinary students. Acheson's estate gift established the chair and also built the college's endowment to ensure that quality veterinary education and research continues at OSU for many years to come. The college renamed its teaching hospital in her honor.
"She always attributed her business success to her educational experience at Oregon State University," said Acheson's niece, Donna Schoen '56. "She would be pleased with the impact her gift will have on the continuing growth and development of the College of Veterinary Medicine."