Two sisters, two approaches to staying connected to Oregon State
July 31, 2019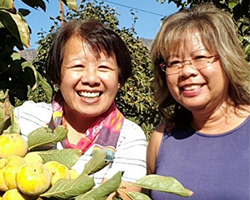 Maria Ester Aguila '80 was the first in her family to attend Oregon State University, but she certainly wasn't the last. Still, her family connections to OSU have helped make her the proud Beaver she is today.
"I was proud to put that Beavs sticker on my car that says I'm an alumni," she says.
After falling in love with the campus and the friendly people, she began her academic career at OSU in the fall of 1975.
Throughout her time at OSU, Maria enjoyed many visits from her family from Portland, including her younger sister Veronica Aguila Allen '89.
Veronica became the next Beaver, and was eventually followed by cousins and nephews, making the Aguilas a multi-generational Beaver family.
Life after Oregon State
After graduating from OSU with a bachelor's in community health, Maria decided to pursue a degree in nursing while her sister Veronica began a career in public service with the County of San Diego.
After receiving her nursing degree, Maria followed her older sister down south and joined the U.S. Navy because she, "wanted to give back to the country I emigrated to."
Maria honorably served over 20 years in the Navy, retiring in the rank of commander, Navy nurse corps. Maria had the opportunity to see the world during her tours and assignments in California, North Carolina, Guam and Okinawa.
After graduation, Veronica moved to San Diego and began as a clerk/typist with the County of San Diego and retired as a finance officer in the probation department. While working for the county, she went back to school for her master's in public administration to further her career and passion for public service.
Volunteering, two ways
For Maria, volunteering is a way to reconnect and "reconfirm the bond" OSU builds between alumni.
Currently, she is active with several volunteer service organizations. She recognizes that all of her volunteer efforts combined are more than a full-time job but says it's worth it because the people motivate her.
Veronica finds volunteering a natural extension of her public service. She is motivated by her desire to serve her community and help people.
When commenting on her experience, Maria stated, "We alumni feel very genuinely connected; whether it's the experience or the people that motivate us, there's a sense of connectivity with Oregon State."