Mary Ellen Phillips Professor in Financial Accounting
December 31, 2007
In 2007 Thomas W. Toomey of Evergreen, Colorado, made a gift to establish an endowed professorship and expand an endowed scholarship in honor of his former accounting professor, Mary Ellen Phillips.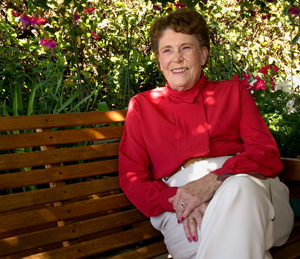 Phillips, who died in February 2008, taught at OSU for more than 20 years and mentored many students who went on to become business leaders, including Toomey, the president and chief executive officer of UDR, Inc., an S&P 400 company that owns and manages more than 43,000 apartment homes in targeted markets in the United States. Toomey credited Phillips with giving him the educational foundation that helped him succeed in his career.
"Since graduating from OSU, I often reflect upon the insight and professionalism that Mary Ellen bestowed upon all her students," said Toomey '82. "It is my family's hope that this gift will assure that OSU accounting scholars continue to find the same quality education that Mary Ellen gave me."
Phillips was a pioneer in the public accounting field. She entered the profession in 1956 when the ratio of men to women was 65 to 1, and she was one of the first 1,000 women in the country to become a CPA. As an OSU business faculty member from 1973 to 1994, Phillips had a substantial impact on many students and helped shape the university's accounting department.
The endowed professorship is designed to support an OSU accounting faculty member who will build on Phillips' legacy of education and research.