Michael and Judith Gaulke Chair in Electrical Engineering and Computer Science
December 31, 2012
California residents Mike and Judy (Mellenthin) Gaulke grew up in Hood River, Oregon, where Judy's father, an OSU professor in pomology horticulture, ran the horticultural experiment station. They graduated from OSU, Mike from the College of Engineering in 1968 and Judy from the home economics program in 1965.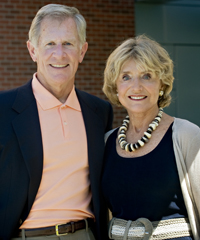 Judy worked as a Pan American international flight attendant, a Sunset Magazine cookbook editor, and as a food stylist before becoming a fulltime artist. Mike became a successful engineering executive in Silicon Valley. Before his retirement in 2009 he spent 18 years at Exponent, Inc., a leading engineering and consulting firm that performs in-depth investigations in more than 90 technical disciplines to analyze accidents and failures and determine their causes. He was inducted into OSU's Engineering Hall of Fame in 2008.
To help OSU's School of Electrical Engineering and Computer Science continue to increase in excellence and build its international reputation, in 2012 the Gaulkes made a $3.5 million commitment to create the school's first endowed faculty fund. The gift represented the largest endowed faculty fund to date in the College of Engineering.