Morrow Professor for Natural Resources Extension Education and Applied Research
December 31, 1999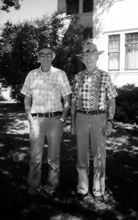 During a luncheon celebrating their pledge to create the Morrow Professorship in the spring of 1999, Andrew and Robert Morrow joked about their difficult beginnings. After returning to Madras, Oregon, after World War II, it was Andy who convinced Bob to purchase their father's ranch. They would be investing in "the good life, and quality of life," Andy claimed. A year or so later, while they were constructing a fence in pouring rain, Bob asked Andy to remind him of what he'd said: Where was the good life he'd promised?

In the long term, their investment paid off handsomely. Using all available resources to gather the current information about rangeland management, including information from OSU's Extension program, the Morrow brothers built their ranch into one of Oregon's model examples of rangeland and grass ranches.

In their mid-80s, the brothers sought a way to reduce their involvement in the ranch, in which they shared all the voting stock. In 1999, Morrow Bros., Inc., established a 20-year term trust with the OSU Foundation. At the end of the 20 years, 20 percent of the proceeds from the trust will be donated to the Sisters of the Holy Family in Fremont, California. The remaining 80 percent will go to the OSU Foundation to establish an endowed professorship and several scholarships. Preceded by his brother, Andy passed away in 2011 at the age of 99.

The Morrow Professorship for Natural Resources Extension Education and Applied Research will be based in Jefferson County and will ensure that the people of the Morrow brothers' home region will continue to benefit from OSU's expertise and innovation in ranching practices. The Morrow Bros. 4-H & FFA Scholarship will benefit students who have had at least one year of 4-H or FFA experience, and allows recipients to attend the college or training program of their choice.