OSU Foundation - Cathy Rudd
January 1, 2018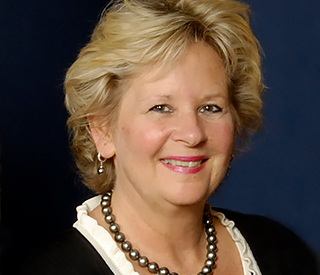 Mrs. Rudd has been a lifelong philanthropist dedicated to community service. After she married Jim Rudd, OSUF Lifetime Trustee and chief executive officer and principal of Ferguson Wellman Capital Management, they have continued their philanthropic and community work. As a philanthropic leader, Mrs. Rudd has served on numerous boards over the years.
Mrs. Rudd is a former member of the College of Health and Human Science's Campaign Cabinet as well as a member of the President's Club Leadership Council. Mr. and Mrs. Rudd are football season ticket holders and regularly attend OSU Athletics events.
Mrs. Rudd earned her B.S. in general home economics from Oregon State University in 1978.
Mr. and Mrs. Rudd have two children: Bryan (CLA '09) and Hilary. Hilary is an alumna of the University of Oregon and currently works for Panjiva in New York City. Bryan is currently a primary school teacher at the Taipei School in Ho Chi Minh City in Vietnam.
In 2017, Mrs. Rudd and her husband were honored with the Classic Wines Auction Vini Award recognizing their passion for both philanthropy and viticulture, and they were also the recipients of the Vollum Award for Lifetime Philanthropic Achievement from the Association of Fundraising Professionals (AFP) of Oregon and Southwest Washington. Additionally, Mrs. Rudd shared with her husband the SOLVE Tom McCall Leadership Award.
Mrs. Rudd is the immediate past president of the Portland Japanese Garden Board of Trustees, a project that tied in her interest in health and healing because of the garden's therapeutic effect on visitors. She is a current member and founder of OHSU Center for Women's Health and OHSU Circle of Giving and is a member of the Women's Board at Waverley Country Club.