OSU Foundation - Gordon Clemons
January 1, 2018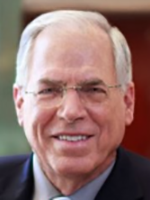 Mr. Clemons has served as chairman of the board of CorVel Corporation since 1991. He was reappointed chief executive officer, president, and chief operating officer in April 2012 after previously serving as the company's chief executive officer from 1988 to 2007 and president from 1988 to 2006. Originally named FORTIS, CorVel is a provider of healthcare management services and solutions for workers' compensation, auto and liability, group health, and disability insurance markets. Mr. Clemons founded the company with two investors in 1987. Prior to CorVel, Mr. Clemons was president of Caremark, Inc., a home intravenous therapy company, from 1985 until its purchase by Baxter International in 1987. From 1981 to 1985, Mr. Clemons was president of INTRACORP, a medical management company and subsidiary of CIGNA Corporation.
Mr. Clemons received the Distinguished Business Professional Award from the College of Business in 2013. Mr. Clemons earned his B.S. in business administration and technology from Oregon State University in 1965 and his M.B.A. from the University of Oregon in 1967.
While a student, Mr. Clemons was a member of Kappa Sigma fraternity and made the basketball team as a freshman walk-on.