OSU Foundation - Rebecca Camden
January 1, 2020
Ms. Camden is known for building back office functions for leading technology-driven organizations in times of significant change. She led the restructure of operational accounting functions at AT&T Wireless following its spin-off from AT&T. She was responsible for building the accounting team for Expedia, Inc., following the spin-off of the travel group (Expedia.com, Hotels.com, TripAdvisor, Hotwire) from IAC in 2005. She rebuilt the accounting functions for CHC Group Ltd. following the predecessor company being taken private by First Reserve in preparation for an IPO and public debt offerings.

She has a proven track record as a decision maker and is a builder and fixer of global accounting functions with a pragmatic approach to people and process in challenging circumstances including: meeting public company reporting requirements, changing GAAP reporting, mergers/acquisitions, downsizings.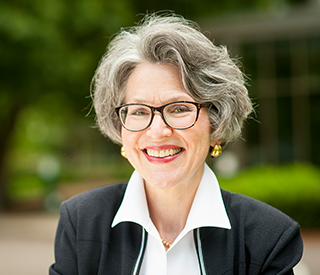 In July 2015, Ms. Camden retired from the role of Chief Accounting Officer of CHC Group, Ltd., a global service provider to the offshore oil and gas industry and a provider of maintenance, repair and overhaul services for helicopter operators. During her tenure, CHC Group went public, listing on the NYSE. Prior to this role, Ms. Camden served as the Vice President of Finance/Accounting Operations at Expedia, leading its worldwide operational accounting functions. Ms. Camden is a respected leader and is known for recruiting and building accounting teams and implementing structure, goals, objectives, policies, process and procedures, while improving the efficiency and effectiveness of the accounting function in public companies. Ms. Camden is a respected decision maker, change agent and mentor with a reputation for building strong teams and improving communication and collaboration.0

Prior to her tenure at Expedia, Ms. Camden served as Vice President of Finance with AT&T Wireless. Her expertise in process improvement resulted in significant cost savings and ongoing cost containment and led to her successfully reorganizing, centralizing, and upgrading accounting operations following the wireless carrier's spin-off from AT&T.

In retirement, Ms. Camden is committed to board service. She is Trustee at the Oregon State University Foundation where she serves on the Campaign Steering Committee. Additionally, she serves on Oregon State University's Carlson College of Veterinary Medicine Dean's Advisory Council. She is a board member with the Girl Scouts of Oregon and Southwest Washington where she is Vice Chair. She is Service Committee Chair for the Zonta Club of Corvallis and is President of the Zonta Service Foundation of Corvallis.

Ms. Camden is a 1979 graduate of Stanford University with a degree in Economics.