OSU Foundation - Rebecca Camden
January 1, 2020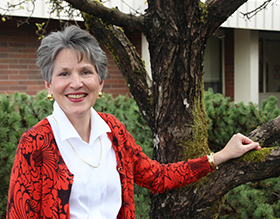 Ms. Camden is retired chief accounting officer of CHC Helicopter, a Vancouver, B.C.-based commercial operator of medium and heavy helicopters. She joined the company in 2009 and retired in July 2015. Ms. Camden previously served as vice president for Accounting Operations at Expedia, Inc., vice president of Finance for AT&T Mobility, and director of Financial Planning and Analysis for Verizon Wireless. Ms. Camden began her career as regional controller for CenturyTel in 1982.

Ms. Camden is a board member and treasurer of The Center Against Rape and Domestic Violence, a nonprofit providing services to those affected by domestic violence. She also serves on the Girl Scouts of Oregon and Southwest Washington Board. As an OSU Foundation trustee, Ms. Camden is a member of the Investment Committee, Finance Committee and Campaign Steering Committee. She has served on the College of Veterinary Medicine Dean's Advisory Council since 2009.

Ms. Camden earned her B.A. in economics and anthropology from Stanford University in 1979.